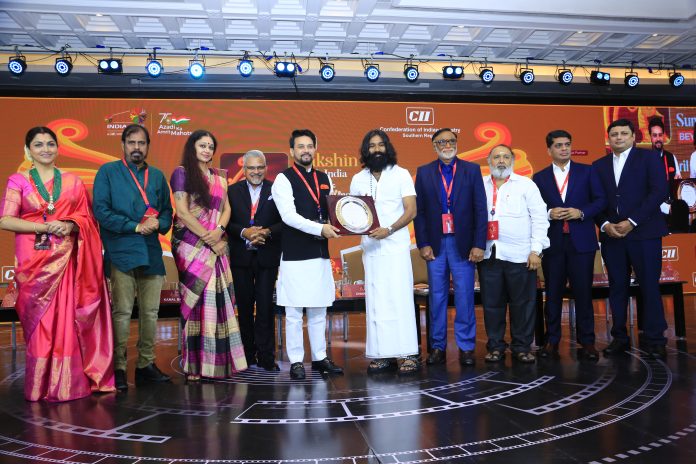 Media & Entertainment Industry poised to touch $70 Bn by 2030: Mr Anurag Singh Thakur
"The Ministry has set a target of the media and entertainment industry touching $70 Bn by 2030 from the current $30 Bn. Digital technologies especially OTT and digital advertising have a role to play and contribute 2/3rd towards this growth" said Mr Anurag Singh Thakur, Hon'ble Minister for Information and Broadcasting and Youth Affairs & Sports, Government of India while delivering his Keynote Address at the Valedictory Session of  CII Dakshin 2023 – South India Media & Entertainment Summit organized by the Confederation of Indian Industry (CII) Southern Region here today.
"We are the largest movie makers in the world. It was the film industry that came forward at the time of the pandemic and entertained everyone" he added.
"On one hand we have challenges and opportunities and the other hand how to skill more and more people and get them to work in the industry to produce movies of international standards," he further added.
"I further take this opportunity to invite partners from the industry to join hands with us and undertake skill development initiatives across the country," he mentioned as a part of his speech.
Mr Dhanush, Actor, Producer &  Director was honoured as Youth Icon by the Hon'ble Minister.   He said, "I had never thought I would come this far and bag the Youth Icon honour.  There is so much to achieve, to dream and to conquer".
Mr T G Thyagarajan, Chairman, CII Dakshin 2023 & Managing Partner, Sathya Jyothi Films said, "The support of the Ministry has been immense for showcasing Indian films on a global level. This edition saw 80 speakers, 1000 delegates from South India, other parts of India and globally too representing the whole spectrum of the film industry,".
Mr Kamal Bali, Chairman, CII Southern Region, President & Managing Director, Volvo Group India appealed to the Government to look into the GST and local body taxes that the film industry is currently being taxed with and to give the industry status tag which has been a demand for many decades,".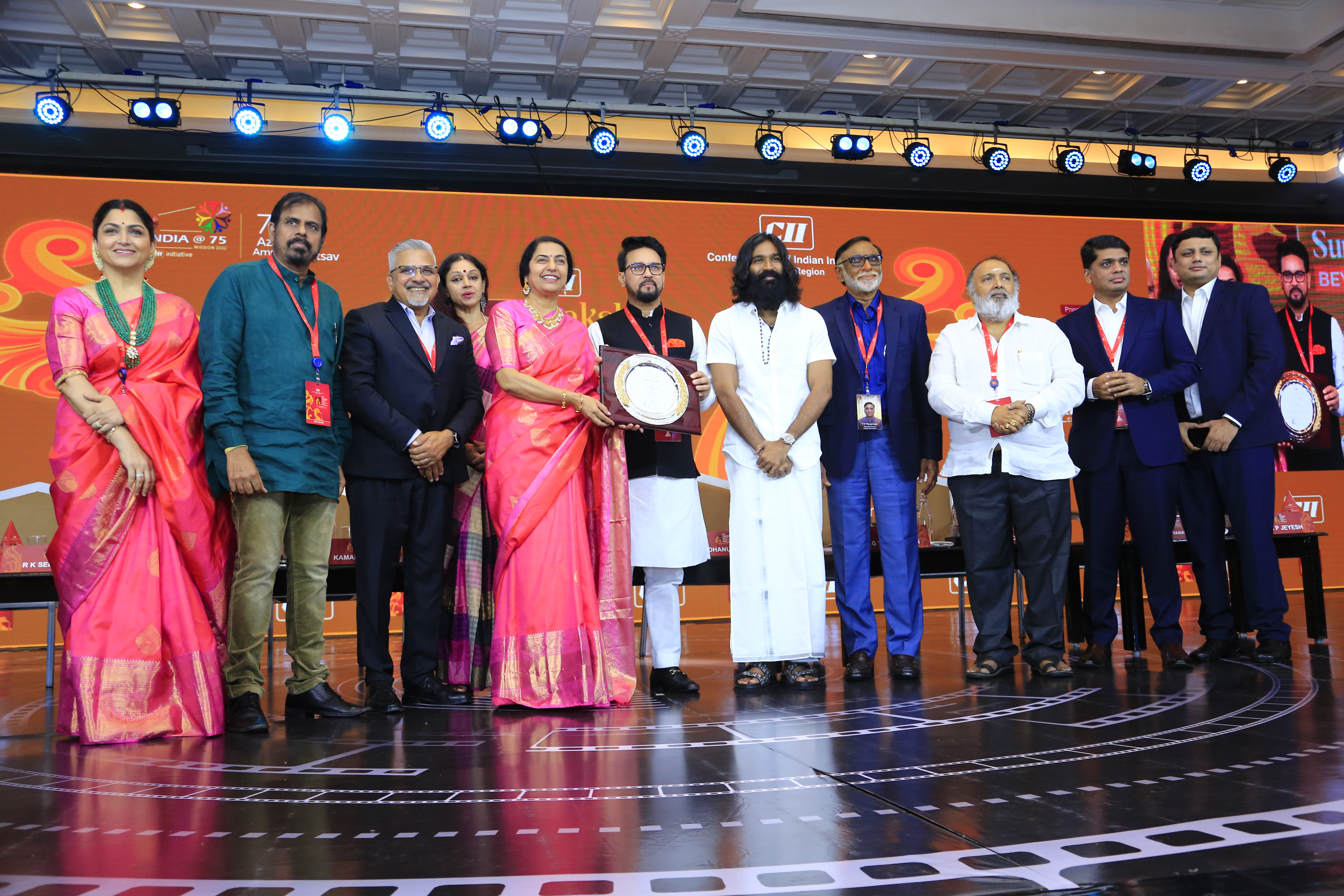 Mr Chiranjeevi, Actor & Producer was honoured as the Icon of the year.  Ms Suhasini Maniratnam, Member, CII Dakshin Steering Committee received the honour on behalf of Mr Chiranjeevi.
Mr Ravi Kottarakara, President, South Indian Film Chamber of Commerce in his special address highlighted the Cinematographers Act being passed by the Rajya Sabha as a major victory for the industry,".
"The request for the Act was presented to the Ministry during the first edition of Dakshin 2022. This year,  it has become a reality," said Mr R K Selvamani, President, FEFSI & Directors Union.
Ms Khushbu Sundar, Member, CII Dakshin 2023 Steering Committee delivered the vote of thanks thanking the Information & Broadcasting Ministry for supporting the media and entertainment industry constantly and making India a truly global leader in the field of cinema.