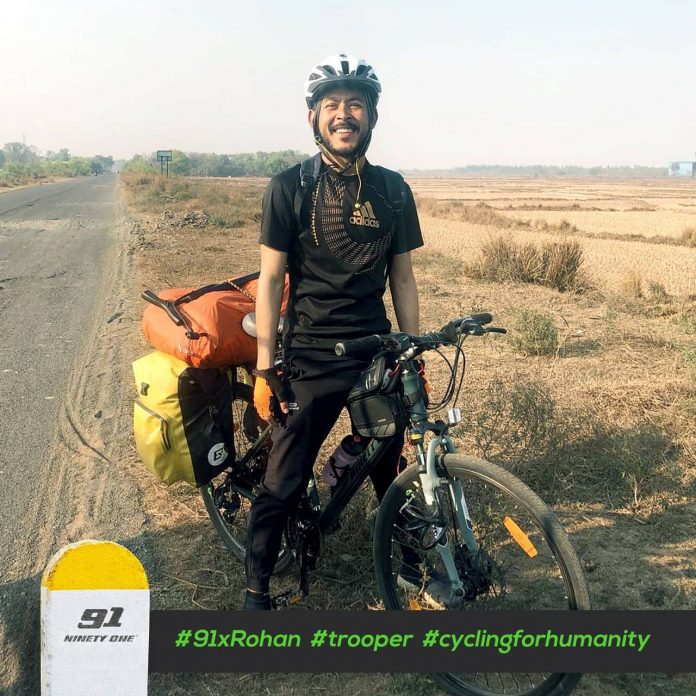 #CyclingforHumanity: Rohan Philem rides on a Ninety One bicycle for a Better India
AlphaVector, a homegrown startup championing the cause of Cycling and Active Lifestyle in India has announced their latest campaign "Cycling for Humanity" in collaboration with Rohan Philem. Ninety One, AlphaVector's popular bicycle brand, is inspired by India's rich history and embodies its action-oriented and constantly evolving spirit. It symbolizes the brand's "Made in India and made for the world' spirit. The vision behind this campaign is to raise awareness and funds to feed homeless people, an initiative Rohan is closely associated with.
The campaign which will be flagged off by Mr.Manoj Bhattacharya (Ex-MP, RSP) on 5th February 2021 at 4:30 PM will see Rohan riding the Ninety One bicycle across 4 cities covering the golden quadrilateral of India (Kolkata – Chennai – Mumbai – Delhi and back to Kolkata), a feat of more than 5000+ Kms. The campaign will be covered in real-time across Rohan (philem_rohan)and AlphaVector's (outdoors91in)Instagram accounts.
Rohan is a young Cyclist Activist on a mission to promote humanity and a pollution-free environment. Since late March, along with his team, he has been "Cycling for Humanity" working hard to feed the homeless and help the needy, especially the ones suffering from the pandemic.