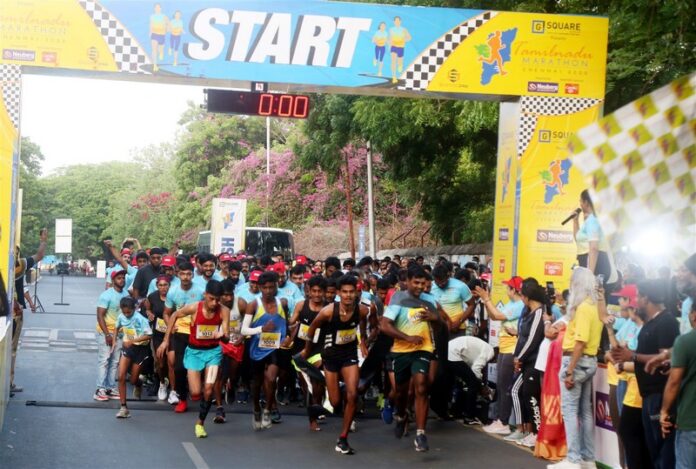 TAMILNADU MARATHON – CHENNAI 2022 to create awareness on the importance of Women and Children Safety Flagged off by Sabari Nair, Sonali Jain, Sangeetha sundaram,  Dr Saranya jai kumar 
& Srimati kesan 
at Besant Nagar.
SportzPro & Tamilnadu Athletic Association have conducted  the 2nd edition of Tamilnadu Marathon in Chennai. The Marathon event 
have
 witnessed around 1542 people participating 
for
 the Half Marathon, 10 KM and 5 Km Fun Run. The objective of Tamilnadu Marathon was to create awareness on the importance of Women and Children Safety.
This Tamilnadu Marathon 2022 flagged off by Sabari Nair, Sonali Jain, Sangeetha sundaram,  Dr Saranya jai kumar, Srimati kesan, Arti arun, Unni nair, Balaji rathinam.
The Tamilnadu Marathon 2022 was successfully completed by the Runners and the Winners are Mr.Rameshwar Vijay Munjal, Maharashtra for 21kms, Mr.Shri Ram Parihar, Uttarpradesh for 10 Kms and Nirmal, Madurai, Tamilnadu for 5 Kms. Medal winners felicitated & distributed Cash prizes also.
This edition of Tamilnadu Marathon was supported by the newly 
launch
 Tamilnadu Police Kaaval Uthavi App & The Rotary Club of Chennai Coastal. "Through this initiative the organisers of Tamilnadu Marathon 
is willing
 to create the support system, be it finance, infrastructure, nutritious foods and clothing needed for the Women & Children 
trough
 various agencies and 
NGO's
.
The grand event was conducted in Chennai, at the Olcott Memorial Higher Secondary – School Grounds  and was attended 
by number
 of bureaucrats, philanthropists, Social work leaders etc.
Tamilnadu Marathon 2022 was presented by G SQUARE GroupIn association with Times of India and BIG FM as Media Partners and Powered by Neuberg Diagnostics and supported by Cardia Life, Sundaram Motors, Norwood, Chaiwale, Aaradhya Gold, Born to Win etc  & Many other brands.
Sabari Nair, Director, Sportzpro who is the organising brain of Tamilnadu Marathon, Speaking about first of its kind state level marathon he added that, " through marathon we aim at 
installing
 the feeling of unity and bonding among people and also kick 
start healthy
 fitness routine. This is surely going to be a new beginning for all of 
us as to
 begin a healthy being, especially after the Pandemic."
The Tamilnadu Marathon will have the Coimbatore and Trichy editions also by this August, he added