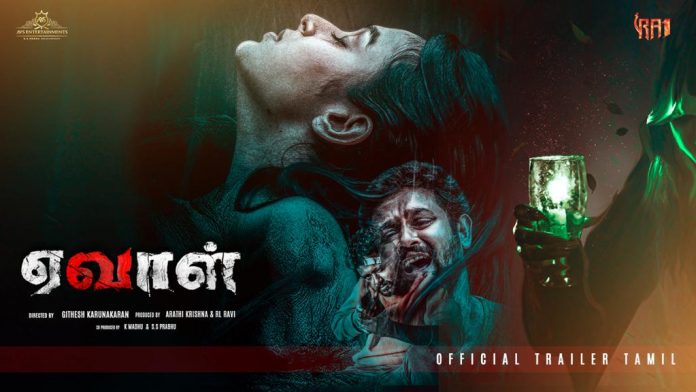 Yevaal Trailer – Time for blood-curling experience with twists and turns
The 'Horror' genre has become a time-worn concept for film buffs, but here comes a new-dimensional and first-of-its-kind blood-curling spooky thriller that will leave the hardcore fans of this domain enthralled. Yeah! The trailer of YEVAAL distinctly proves that it's gonna be the crown jewel of this genre of this contemporary league. The trailer with the running length of One minute 52 seconds enhances the inquisitiveness for its fresh story premise and top-notch technical works.
Angaadi Theru fame Mahesh plays the lead role, and the others in the star-cast include Mahesh, Mokksha, Arathi Krishna, Parichita Singha, Gowri Sharma, Akshara Raj, Madhumita Dey, Mippu Samy, Praveen Parameswar, Midhun Vembalakkal and many others.
Arathi Krishna has penned the story and Ranjith Raghavan has written the screenplay. Dialogues and lyrics are penned by Murugan Manthiram. The others in the technical crew are Krishna PS (DOP), Rejimon TKL (Music), Anandhu S Vijay (Editing), Rijosh (Background score), Brucelee Rajesh, Dragon Girosh (Stunt), Hakkim (Makeup), Vishnu (Costumer), Pranav-Manikuttan Adoor (Art), N Shabu (Sound Effects), Raja Nalliayah (Sound Mixing), Shebin-Arshid-Rohit Raj-Sujith PS-Prabin Babu-Abdulla Kunhi Marakkar (CG), Golden Monkey Studios (VFX Supervisor), Shibu (Head of Production), Walkman Studio (DI), Sajid Ahmed (Colourist), Sarath (Helicam), and Arjun Avaga (Still).
The film is directed by Githesh Karunakaran and is produced by Arathi Krishna and RL Ravi of RA1 Entertainments in association with AVS Entertainments. Madhu G and SS Prabhu have co-produced this movie.