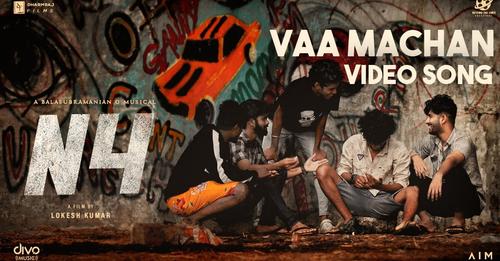 Vaa Machan Video Song From N4 Movie
Here is the official video song of Vaa Machan from the movie N4 composed by Balasubramanian G , sung by Velmurugan. Listen now!
Song: Vaa Machan Singer: Velmurugan Lyrics: Lokesh Kumar Direction: Lokesh Kumar Music composed & Arranged by: Balasubramanian G Song shot by: Divyank S & Dilipan Prabaker U Editor: Dani Charles Live Percussions : Karthik Vamsi Trumpet & Trombone : Viji Soprano Sax : Leonal Chorus : R V Vignesh, Vijay Krishna, Sathyan, Balasubramanian G Music Advisor: Keerthivasan R M Recorded at R M Music Studios Mixing & Mastering: Keerthivasan
R M N4 is an upcoming Tamil-language crime-thriller feature film produced by Dharmraj Films & Beyond The Limit Creations.
The movie has won multiple awards in various international film festivals. Stay Tuned to Divo for more updates.
Trailer Link: https://www.youtube.com/watch?v=hC1N8…
Written & Directed by: Lokesh Kumar
Cast: Michael Thangadurai, Gabriella Sellus, Afsal Hameed, Vinusha Devi, Akshay Kamal, Pragya Nagra, Abishek Shankar, Anupama Kumar, Azhagu, Vadivukkarasi, Vada Chennai Anbu, Chennila, Karthi Keyan, Subhalaxmi, Sagar, Thamizh, Tharun, Akash, Prem, Ashik, Haseeb, Vignesh, Amal, Suhail, Anish, Barath, Prabhakaran, Venki, Vikram, Senthil, Naren, Chandru, Antony, Sudha, Ravi, Thulasi Producers: Naveen Sharma, Yogesh Sharma, Lokesh Kumar
Executive Producer: Rafael Rajashekar Co-Producers: Shilpa Raj, Sagar JayaRam, Harini Daddala Associate
Producers: Anil Saxena, Kumar Vasa, Cyril D'Souza, Dani Charles
Audio Label: DIVO MUSIC
Co-Director: Cyril Cinematography: Divyank S Editing: Dani Charles Music: Balasubramanian G Stunt: V Koti Costumes: Nandha Amirtha, Lokesh PRO: Sathish (AIM) Additional Cinematography: Dilipan Prabaker U Makeup & Hair: Lokesh, Mageshwari, Ashok, Prasad DI Colorist: Prateek Srivastava Sound Design: Gokul Dev 5.1 Mixing: Naveen Shankar Publicity Designs: Barani Raja Subtitles: Sajid Ali VFX: Venky Lyrics: Lokesh Kumar, Niranjan Bharathi, Thoufeeq Singers: Velmurugan, Anthony Daasan, Chinmayi Sripada, Abhay Jodhpurkar, Gana Achu, Abby V, Monica Poster Stills: Lokeshwaran Dance Choreography: Harish Karthick Stills & Making: Pari Tamilselvan, Suresh Sundaram Production Team: Deepan, Deepak Ashwin, Sai Shruthi, Nelson Dilip, Sameer, Bala D Associate Directors: Rahul Gopalakrishnan, Pushpendar Arumugam, Santhosh Pandi Direction Team: Mukesh Mahendran, Gowtham, S Anil Prakash, A Sarveshwari, M Nirmal Kumar, Pari Tamilselvan, Kamalesh