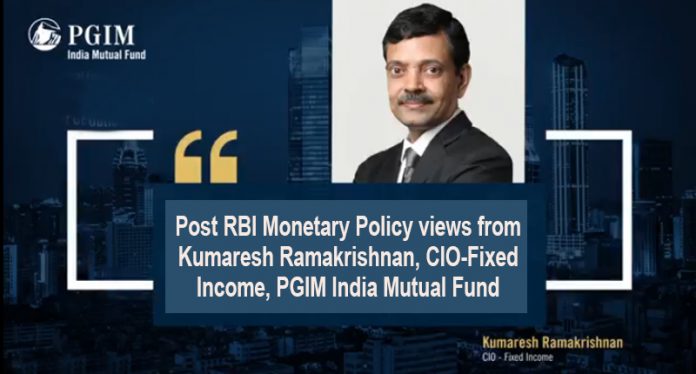 Post RBI Monetary Policy views from Kumaresh Ramakrishnan, CIO-Fixed Income, PGIM India Mutual Fund
Policy View – June 2021 MPC
The second bi-monthly monetary policy for fiscal 2022, expectedly retained a status quo on all key policy rates. The MPC refrained from issuing any "time-based guidance" on liquidity normalization just reiterating its "accommodative stance" on rates and its resolve to maintain "surplus liquidity" to help the economy return to a durable growth path.
Based on the success of the G-sec Acquisition Programme (G-SAP) 1.0 (INR 1.0 trillion) and in continuation with its narrative of anchoring long end rates at competitive levels, RBI announced G-SAP 2.0 for INR 1.2 trillion for the July – August quarter. The absence of a time-based guidance will help the shorter end of the yield curve to stay largely unchanged for the short to medium term.
We would continue focusing on the Banking & PSU, Corporate bond and Dynamic Bond fund categories, post today's policy.