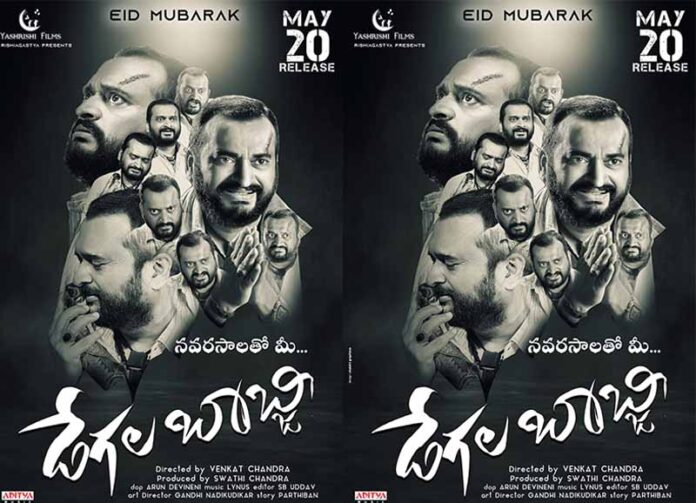 Bandla Ganesh's 'Degala Babji' to release on May 20
'Degala Babji' is Telugu cinema's first single-actor movie where you will see only one character at one place in a single location throughout. The other characters will be heard in the form of their voices. The film is a remake of the Tamil movie 'Oththa Seruppu Size 7'. Actor and producer of huge movies, Bandla Ganesh, is debuting as a male lead. Directed by newcomer Venkat Chandra, the film is presented by Rishi Agastya of Yash Rishi Films and produced by Swathi Chandra.
The thriller is all set to hit the screens on May 20.
Speaking today about the movie, hero Bandla Ganesh said, "It's a risky thing to make a single-actor film who lives in a room throughout the run time. Director Venkat Chandra has shouldered me with such a challenging story. I really hope this film is going to define my career. I hope I will earn the audience's respect after this movie. I have been waiting for this respect for 30 years. The music director's music and RR are superb. The Tamil original 'Oththa Seruppu Size 7', which was headlined and directed by R Parthipen, received the National Award. I am glad to have headlined its remake. I thank Puri Jagannadh garu and Harish Shankar garu for supporting our movie by releasing its trailer and poster. I hope your blessings on this May 20th release will be there."
Director Venkat Chandra said, "Bandla Ganesh garu has delivered an amazing performance. The audience are going to talk about his acting talent after they watch this movie. The music is amazing."
Director: Venkat Chandra, Producer: Swathi Chandra, Co-Producer: Muppa Ankammarao, Music Director: Lynus Madiri, Cinematographer: Arun Devineni, Art Director: Gandhi Nadikudikar, Dialogue Writers: Vydehi, Maruduriraja, Editor: SB Uddhav