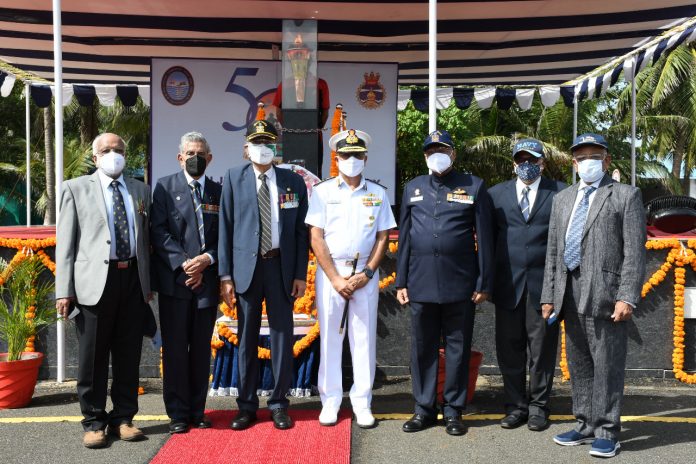 THE HEADQUARTERS TAMILNADU PONDICHERRY(HQTNP) NAVAL AREA CELEBRATES GOLDEN JUBILEE OF 1971 WAR VICTORY
Headquarters Tamilnadu Pondicherry (HQTNP) Naval Area celebrated the Golden Jubilee of Victory of 1971 Indo-Pak War with the arrival of the Victory Flame. The victory flame which symbolises India's Victory in the 1971 war has reached HQTNP Naval Area at Chennai on 27 Jul 2021. The flame was received by Rear Admiral Puneet Chadha, VSM, the Flag Officer Commanding Tamil Nadu and Puducherry Naval Area with full military honours. The function was also graced by many naval war veterans along with their families including Rear Admiral (Retd) S Ramsagar, VrC, AVSM, NM and daughter of Commodore (Retd) KP Gopal Rao, MVC, VSM awardees of the 1971 war. The Flag Officer thanked all veterans who have graced the occasion and highlighted the dedication and commitment of the disciplined Indian Armed Forces to the nation in times of both war and peace. The ceremony continued with the laying of wreaths by the Flag Officer, veterans and other senior Officers and the flame was further moved to Navy Nagar and Indian Naval Jetty at Chennai Port.
The year 2021 marks the 50th anniversary of the historic victory of the Indian Armed Forces in the 1971 Indo-Pak War. The Golden Jubilee of this historic victory is being celebrated year-long as 'Swarnim Vijay Varsh'. The victory flame was lit by the Hon'ble Prime Minister of India in the National War Memorial at New Delhi on 16 December 2020. It is travelling in four cardinal directions of defence commands in the country. Hundreds of Indian soldiers lost their lives and showed exceptional courage in the Bangladesh Liberation war. The flame is travelling across the length and breadth of the country, connecting cities and villages felicitating the war heroes and their next of kin and Veernaris (war widows).