Should law adapt to tech or should tech adapt to the norms of law, asks Prof Upendra Baxi
Prof. Upendra Baxi, renowned jurist and former Vice Chancellor of Delhi University delivered the first S. Krishnamurti Endowment Lecture in Law organised by School of Law, Sai University via video conferencing in Chennai.
The lecture titled 'The Law's Soft Technology governing Hard Technologies?' explored the question of whether the law itself may be conceived as technology and if so what kind of technology it may be.
He mentioned that the US Defence Department has, in an unconscious irony described "drones" — non-lethal automatic weapons systems, the first letters of which acronymise as LAWS!
He found the idea of law as an 'enterprise' to subject human behaviour advocated by jurist Lon Fuller and the notion of 'cultural lag' propounded by sociologist Charles Ogburn compellingly relevant today in understanding law as technology.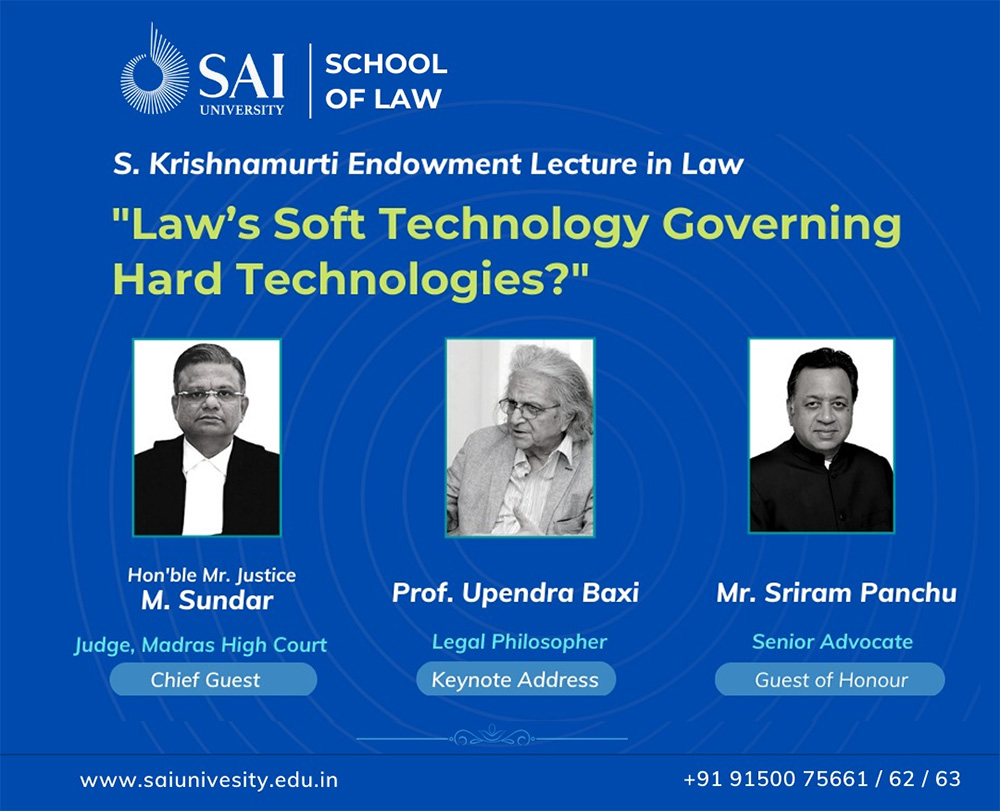 "The Fullerian idea of law as a normative enterprise has appeal because legislation, administration, interpretation, enforcement, the four domains of law, unite as risk-takers. Risks and trust in experts, epistocracy, as we now call it, are the defining marks of the old and the new modernity; and modern law is at the heart of the dialectical relation between the two. So, there is fun ahead in thinking about 'soft' technology of law still trying to regulate 'hard' ones," a press release from the University quoted Prof. Baxi.
Justice M Sundar of the Madras High Court was the Chief Guest and advocate Sriram Panchu was the Guest of Honour. KV Ramani, Chancellor of Sai University, Prof. Jamshed Barucha, Vice Chancellor, and Prof. Reena Patel, Dean, School of Law, also spoke on the occasion. The vote of thanks was delivered by Prof. MV Shiju, Deputy Dean, School of Law.
The dynamics and dimensions of legal education have undergone a sea change as he never got to listen to jurists of his time in 1983, said M. Sundar, Judge, Madras High Court, at an event in Chennai.
University profile
Sai University was founded with the vision to establish India's first international university and is coming up in phases. Sai University is being led by the Founder and Chancellor, KV Ramani, a prominent entrepreneur and philanthropist.
The School of Law at Sai University reflects the university's vision and aspirations. The leadership of Sai University's School of Law is provided by the Dean, Prof. Reena Patel, who has over 30 years of experience from NLSIU and Warwick University.
The universe of legal education is undergoing a tectonic shift. Law is becoming a data-driven and technology-enabled domain, which poses several regulatory challenges. A result of this has been the career path, skill sets, and domain knowledge that a lawyer requires.
This change has been acknowledged and is reflected in the law school's programmes and offerings. The school currently offers a five-year integrated B.A. LL. B. (Hons.) programme, one year LL.M. in regulation and governance, and a PG Diploma in technology, law and policy.
The endowment lectures have been named after the late S. Krishnamurti, a lawyer who practised company law and taxation law in the Madras High Court and in his law chambers with great expertise.
He helped everyone in need with pro bono counsel. S Krishnamurti also supported several students with scholarships for their education. The S Krishnamurti Endowment Lectures in Law has been instituted by his daughter Dr Vasantha Bharucha from New Delhi, with a generous grant, enabling these lectures to be organised every three months.