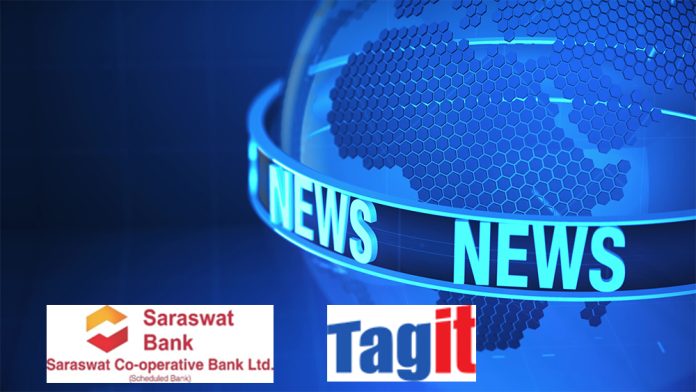 SARASWAT BANK PARTNERS WITH TAGIT TO REVAMP ITS DIGITAL CHANNELS
 Nagpur/Singapore, Saraswat Bank, India's largest Urban Co-operative Bank has partnered with Tagit, a leading digital banking solutions provider, to implement omnichannel digital banking solutions for its retail and corporate customers. The Bank will use Tagit's Mobeix Digital Banking platform to enhance customer experience by offering a comprehensive set of digital services securely, anytime anywhere.
The Bank with its spread across six states – Maharashtra, Goa, Gujarat, Delhi, Madhya Pradesh, and Karnataka, has total business over Rs. 71,000 crores as on March 2022 with a Net Profit of Rs. 275.02 crore. It also kept its NPAs at a low level of 0.65%, thus demonstrating a strong business position.
The Mobeix Digital Banking platform will accelerate the Bank's ability to launch new digital services allowing the Bank to constantly innovate and scale as its customer base grows. The new digital offerings will accelerate adoption of the usage of digital channels by the Bank's customers, thus enabling the Bank to compete and grow in the market.
Using the Mobeix platform, the Bank will be able to enhance the customer experience by offering a comprehensive set of digital services securely, anytime anywhere.
The Bank chose Tagit based on its best-in-class products built on a robust digital banking platform and successful record in the Indian market.
Key highlights of the solution include:
Enhanced security via multi-factor authentication, biometric login etc.
Self-registration functionalities that will be available for retail users will aid the Bank in improving operational efficiency of customer service functions
Intuitive and omnichannel UX to accelerate the customer adoption of digital channels whilst expanding the current functionalities provided by the Bank
Stable and "always on" environment for their customers
Saraswat Bank Chairman, Mr. Gautam Thakur, commenting on the partnership said, "Saraswat Bank has always been at the vanguard in adopting new-age technologies and implementing various technology-powered initiatives.
Our association with Tagit is one such initiative to provide an omnichannel facility to our customers through new Mobile Banking and Internet Banking application. This will provide enhanced accessibility and enriched user experience through seamless user journey."
Sandeep Bagaria, CEO of Tagit, said: "With a strong local presence and expertise in the Indian market, Tagit is delighted to support the Bank to realise its vision of accelerating digital transformation to keep pace with the digital revolution."
The Mobeix platform will provide the Bank's retail and business banking customers with seamless orchestration of services across mobile and web, comprehensive features, outstanding UX and robust security. This will increase the market reach, faster time-to-market and enhance customer engagement.