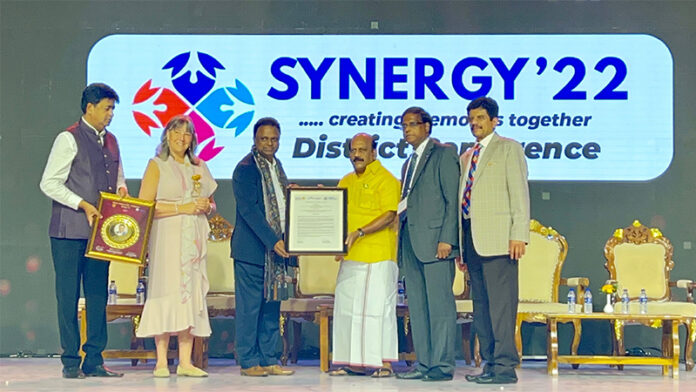 Rotary International District 3232 presented the Corporate Excellence Award to Mahindra & Mahindra at the Rotary District conference Synergy'22 at Chennai Trade Center
The award was presented by Hon'ble Minister for MSME & Rural Industries, government of Tamil Nadu, Thiru. T M Anbarasan at a large gathering of Rotarians. Shri Velusamy is the President of Automative Technology & Product Development, Mahindra & Mahindra and was the brain behind the M-Hawks engine.
The citation was read by Rtn. DG Sridhar in the presence of the Rtn. Nicki Scott, Rotary International Director and RI President's Representative, who has come down specially from the UK.
The citation included a glimpe of the exemplary service and leadership of Shri Velusamy who was instrumental in single handedly driving Mahindra & Mahindra Automotive division to great success.
Thiru. T M Anbarasan was overjoyed to present the award to a local lad from rural Tamil Nadu. He encouraged him to achieve more and take Tamil Nadu to greater heights.