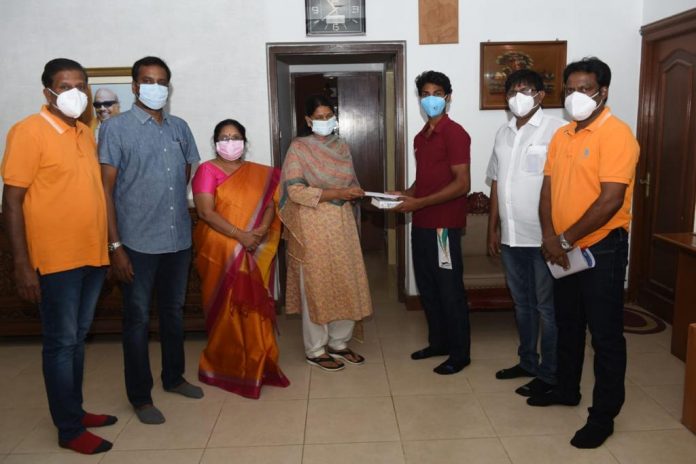 Mareeswaran Sakthivel of Tamilnadu gets selected for the Junior Indian Men team coaching camp for the upcoming Junior Men World Cup
Mareeswaran Sakthivel hails from, Kovilpatti, Thuthukudi district. He was the product of SDAT Excellence center, Kovilpatti. His outstanding performance in the Khelo India Hockey tournament fetched him a place in Junior Men Indian team coaching camp. Mrs Kanimozhi Karunanidhi, MP, Thuthukudi supported him by providing him all the necessary equipments (International standard) for him to attend the camp.
Currently Mareeswaran Sakthivel has been called for Junior Men Indian World team coaching camp preparations for the forthcoming FIH Junior Men World Cup at Guwahati end of this year.
Mareeswaran Sakthivel today met Mrs Kanimozhi Karunanidhi and saught her blessings. She congratulated and presented him cash award and a book on Kalaingar Karunanidhi "A Life" written by Mr A.S Paneerselvan.She also advised him set himself as a role model for the upcoming players.
Mareeswaran Sakthivel was accompanied by Mr Sekar J Manoharan, President, Ms Renukalakshmi, General Secretary, Mr Rajarajan, Teasurer, Mr Clement Lurdhuraj and Olympian Mr Thirumalvalavan, Joint Secretaries of Hockey Unit of Tamilnadu.