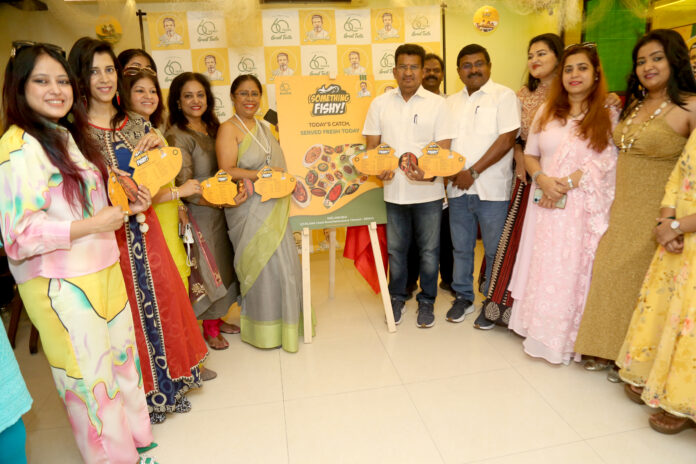 Junior Kuppanna Unveils Its Enchanting Seafood Speciality Branch in Neelankarai, ECR, Chennai
Chennai, August 28, 2023 – Junior Kuppanna, an epitome of South Indian culinary mastery, proudly announces the grand launch of its exclusive seafood specialty branch nestled in the picturesque ECR locale. Situated at 2/546, LHC, East Coast Rd, Illam, Neelankarai, Chennai, Tamil Nadu 600041, this new culinary haven is all set to redefine seafood dining.
The ECR Neelankarai branch of Junior Kuppanna is not just a restaurant; it's an ode to seafood aficionados and gastronomes seeking an unparalleled experience. Committed to uncompromising culinary excellence, the establishment pledges to serve seafood at the zenith of its flavor, celebrating the day's catch in all its glory.
Diners at ECR Neelankarai will be treated to a sumptuous menu boasting an impressive array of over 25 Kongu-style seafood variations. Each dish on the menu speaks about Junior Kuppanna's legacy of impeccable quality and authenticity.
The choice of ECR as the location for this culinary adventure is no coincidence. Poised along the coastline, ECR beckons seafood enthusiasts with its allure, making it the perfect canvas for Junior Kuppanna's seafood specialty.
 The profound connection between the restaurant and its environment seamlessly intertwines the essence of the sea with Junior Kuppanna's culinary prowess.
The grand launch of the seafood specialty restaurant at the ECR Neelankarai branch was a moment of jubilation, graced by the esteemed presence of Mr. Murthy K and Mr. Arumugan P, Founders, and Chairman of Junior Kuppanna. Their participation in the inauguration underscores the brand's unwavering commitment to excellence and authenticity.
"We are overjoyed to introduce the art of seafood indulgence to the discerning residents and visitors of ECR," shared Mr. Murthy K. "This seafood specialty branch not only celebrates the ocean's bounty but also speaks about the flavors that have graced our tables for generations."
Adding to the festivities was Mr. S. Vijaya Bhaskar, Chief Operating Officer, who remarked, "The ECR Neelankarai branch is a testament to our dedication to delivering remarkable dining experiences. Our menu reflects our dedication to culinary traditions and innovation."
The ECR Neelankarai branch is poised to be more than just a dining destination – it's a tribute to the sea and an embodiment of Junior Kuppanna's relentless pursuit of culinary brilliance.
Many Socialites including Mrs. Shanthi premraj, Chitra Ravilla, swarupa
. Mallika Chowdry 
graced the launch event.
Store Address: 2/546, East Coast Road, Neelankarai, Chennai – 600041, Ph: 7305277720