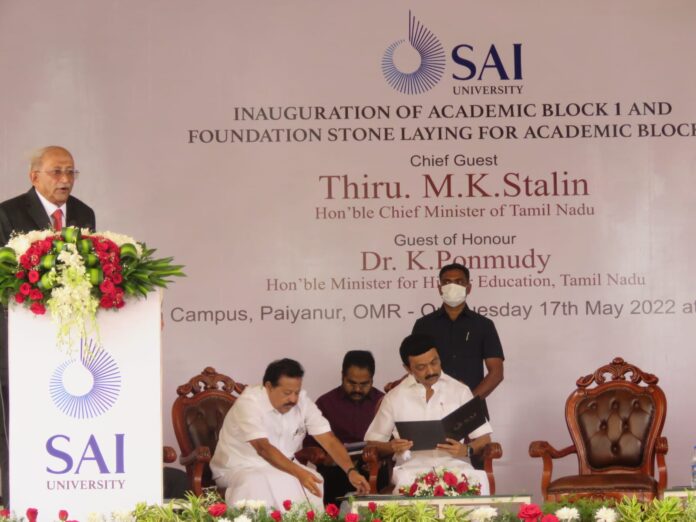 Hon'ble Chief Minister of Tamil Nadu M.K. Stalin inaugurates Sai University facilities
Sai University is a transformative international ecosystem in which students realize their aspirations with the guidance of renowned faculty
The core academic facilities of Sai University, a new international university in Paiyanur, OMR, were inaugurated today by Thiru M.K. Stalin, Hon'ble Chief Minister of Tamil Nadu, in the presence of Dr. K. Ponmudy, Hon'ble Minister for Education, Tamil Nadu, and other dignitaries.
In the view of Chief Minister Stalin, Chennai has always been in the forefront of learning, and the world will benefit greatly from graduates of Sai University. He congratulated Mr. K.V.Ramani, Founder and Chancellor, for launching a world class university near Chennai. He was confident that Sai University will bring laurels to Tamil Nadu and the world. Dr. Ponmudy wished Mr. Ramani's team abundant success and a glorious future.
The masterplan of the 103 acres campus in Paiyanur, OMR, on the outskirts of Chennai and
includes facilities for teaching, research, residential life, sports and cultural activities. The Chief Minister will inaugurate the first academic building of 30,000 sq. ft. and lay the foundation stone of the second academic building of 2 lakh sq. ft. Over the next ten years, Sai University will invest ₹600 crores, growing to a student strength of 3,000, accommodated in 6 lakh sq. ft. built with the highest international academic standards in mind. Sai University is promoted by the Sai Education, Medical, Research, and Charitable Trust.
Sai University's vision is not to be the largest, but rather the finest and most distinctive
University in India. It is inspired by the models of Stanford and Harvard Universities. It aims to integrate three fundamental pillars of education – learning, research and societal impact. A liberal approach to education, focused on sparking the imagination and liberating the mind, is a core feature of the University's academic philosophy. Liberal education entails harnessing student talent, creativity, and leadership potential — rather than forcing information down students' throats — positioning them to thrive and lead in an increasingly complex and interconnected world. In line with its student-centric approach, Sai University will allow students to curate a personalized course plan according to their interests.
The University's flagship undergraduate program is the first in India to provide an integrated ecosystem for liberal arts, sciences, law, and technology. From day one, students are challenged to confront the big challenges of our time – all of which require multidisciplinary solutions.
Students are taught by thought leaders from around the world, in addition to resident faculty, deploying a unique colloquium model. Undergraduate students may obtain a B.A., BSc. from the School of Arts & Sciences, a BTech from the School of Computing & Data Science, or an integrated B.A. LL.B. from the School of Law.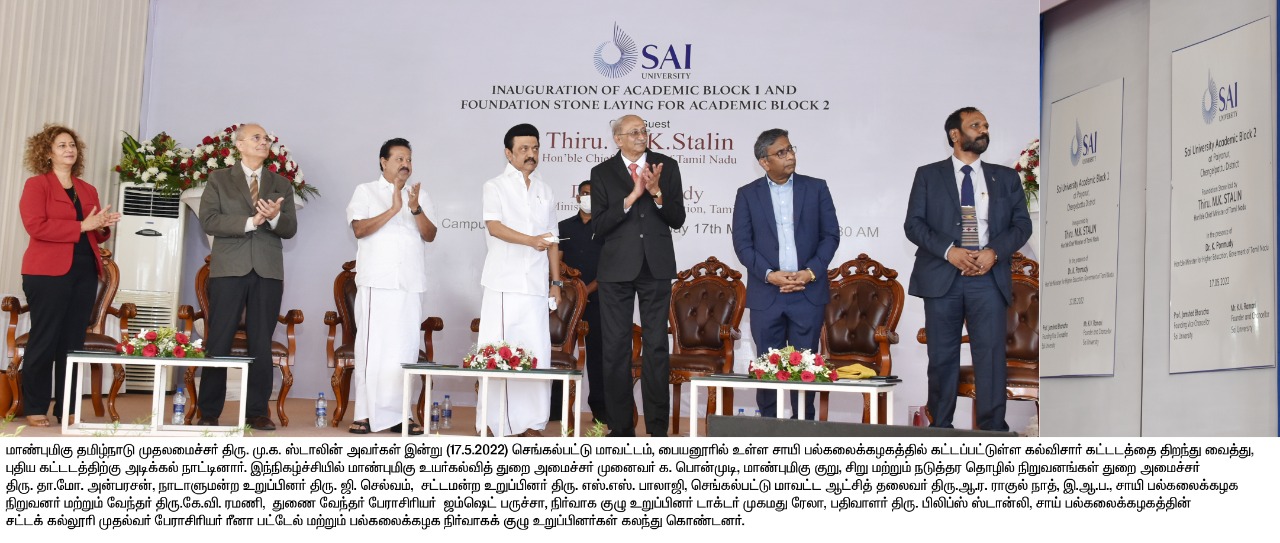 At the post-graduate level, the University offers two programs through the School of Law: an LL.M. in regulatory studies and the distinguished Daksha Fellowship in law and technology.
Founder and Chancellor K.V. Ramani is a prominent entrepreneur and philanthropist. Says
Mr. Ramani: "Sai University aims to prepare students to succeed in a constantly evolving world.
This means a paradigm shift from specialized, functional knowledge towards a fluid skill set and knowledge base. The University will inculcating attributes like critical thinking, problem- solving, effective communication, and leadership over singular emphasis on traditional course requirements and grades. While introducing these pedagogical innovations, the University will ensure students strive for and meet the highest levels of academic excellence."
Sai University's Governing Board consists of eminent people from business, academia,
government, and civil society: NR Narayana Murthy (Co-Founder, Infosys), M.N.Venkatachaliah (Former Chief Justice), Dr. Kasturirangan (former Chairperson, ISRO), Dr. Anil Kakodkar (former Chairperson, Atomic Energy Commission), Sriram Panchu (Senior Advocate, Madras High Court), Mohandas Pai (Chairman, Manipal Global Education), Ashank Desai (Co- Founder, Mastek), Savita Mahajan (Former Deputy Dean of Indian School of Business), K.P.Krishnan (former Secretary to Govt of India), Sunita Reddy (Managing Director, Apollo Hospitals Group), B. Sriram (Former Managing Director of SBI), M.K. Santhanaraman (LL.B., C.A.), Bharti Gupta Ramola (former Partner, PWC India), Bhaskaran Ramamurthy (Managing Director, Shraddha Saburi), and Dr. Mohamed Rela (Chairman and Director, Dr. Rela Institute and Medical Center).
Founding Vice Chancellor Prof. Jamshed Bharucha is a cognitive neuroscientist and has
served in prominent leadership roles in higher education, including President of Cooper Union in New York, Provost and Senior Vice President of Tufts University in Boston, and Dean of Faculty at Dartmouth College in New Hampshire. His academic research has focused on neural network models and Functional MRI studies of the brain's response to music. He received an M.A. from Yale University and a Ph.D. from Harvard University. He has done research at Cornell and Carnegie Mellon Universities, and was a Fellow of the Center for Advanced Study in the Behavioral Sciences at Stanford University.
According to Prof. Bharucha, Sai University is creating a transformative international ecosystem in which students realize their aspirations under the tutelage of world-renowned faculty, and faculty realize their aspirations for teaching, research and societal impact with the participation of students.
Dean of the School of Law Prof. Reena Patel is a legal academic, mentor and coach with a
passion for delivering quality higher education across various contexts globally. She has taught at Warwick Law School, UK. She served as Founding Dean of Maharishi Law School, Noida.
Her publications focus on gender, access to resources, and equality. She was the Co-Founder of the South Asian Regional Network (SARN) for Gender, Law, and Governance. She is a Council Member of the Sustainability Platform (TSP) Asia and is a Founding Trustee of Life and Liberty Foundation (LLF).
Distinguished international faculty
The University is home to outstanding faculty who provide a platform for excellence in teaching, cutting edge research, and positive impact on society. The unique faculty model enables the University to leverage international thought leaders. Sai University's distinguished Visiting
Faculty include: Prof. John C. Mitchell, Head of the Computer Science Department at Stanford; and Prof. Michael Gazzaniga of University of California, Santa Barbara, founder of the field of Cognitive Neuroscience and principal discoverer of left-right cognitive differences in the human