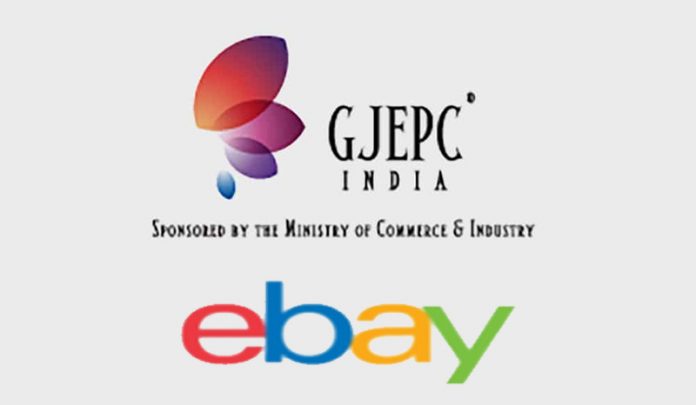 GJEPC along with eBay launches an Exclusive Online Jewellery Store 
Chennai : The Gem & Jewellery Export Promotion Council (GJEPC), the apex body of gem & jewellery trade in India, has forged a unique partnership with global E commerce giant eBay to offer to its Members an Exclusive Jewellery Store on eBay. With its 'Make in India for the World' tag, the Jewellery store on eBay will help jewellery exporters including MSMEs and Brands to boost online jewellery sales with a low setup cost. It will also provide market research & insight along with being a local business development support. Ebay has 183 million Active Buyers (Q2 2020) having more than 15,000 Indian sellers, which is a high potential market segment for GJEPC members. 
Colin Shah, Chairman, GJEPC, said, "As part of our endeavour to constantly deliver value to members, GJEPC has collaborated with eBay, to establish an exclusive and dedicated store for Jewellery on eBay. This would be an opportunity for all Jewellery Manufacturers to list their products and showcase them to the already existing buyer base of eBay.  The collaboration between eBay, India and GJEPC is a step towards facilitating Gem & Jewellery Exports through E Commerce platform and drive the vision of "Digital India". Demand for gems and jewellery is picking up in all major export markets, hence it is important to tap all important online opportunities."
"The partnership brings immense opportunities and benefits to GJEPC Members especially to MSMEs and small to medium businesses, to reach out to a new segment of prospective customers. In the first three months, GJEPC members stand to benefit anything from Rs. 40,000 for 500 listings to Rs. 95,000 for 1000 listings. The value-added services provided by eBay will assist in market development and enhance the business-customer proposition of Indian jewellers", Colin Shah added.
Vidmay Naini, Country Manager, eBay India-CBT, said "We, at eBay in India, are convinced that Indian Gems and Jewellery sellers are well poised to scale their business and presence across the eBay marketplace globally. The partnership with GJEPC is a step forward in enabling them in this endeavour. Together with GJEPC we will educate, support and scale these sellers on the eBay marketplace." 
Benefits to GJEPC members:
Promotions & Marketing- Helps participate in sell side marketing event organised by eBay
Account Management- Provides support on registration by eBay's team
eBay Seller Protection– Provides Protection & support in case of account restriction
Exclusive Promotional Landing Page- GJEPC members can showcase products which will be promoted by eBay & GJEPC
Store Design & Cataloguing- Helps in finding store design & cataloguing partners
Features:
Seller Incentive Programs– Eligible for special incentive programs with discounts on eBay fees
eBay Product Listing fee – Free listings for USA, UK and AU for 6 months
Free basic store subscription for 3 months, including 500 Free Listings per month, access to promotional features, product research tools, discounted eBay fee and seller specific url
GJEPC will be organising interactive Sessions with prospective Seller base for in depth understanding of the onboarding process on this platform. Starting with webinar for Diamond Jewellery seller this week, it will be followed by webinar for Coloured Gemstone sellers, Gold Jewellery, Loose Diamonds, Diamond Jewellery and Fashion Jewellery respectively in the following weeks.