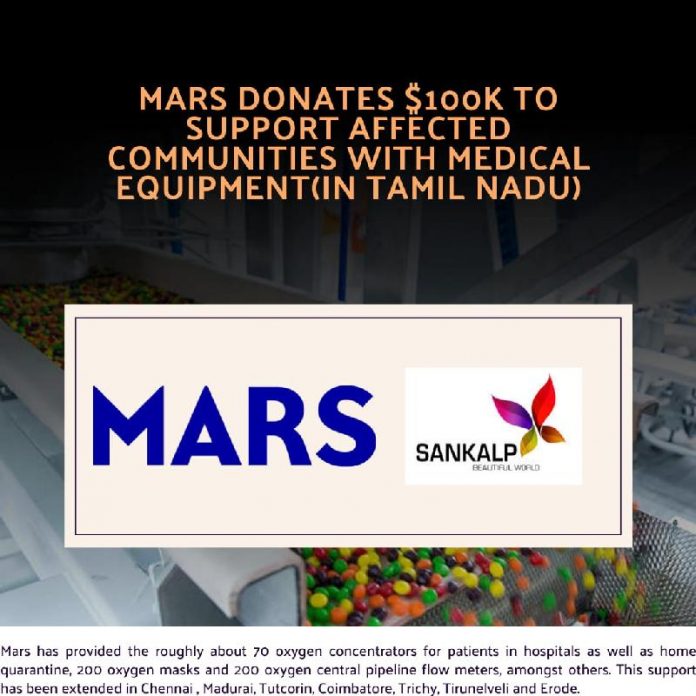 ​Mars Donates $100K To Support Affected Communities WithMedical Equipment (In Tamil Nadu)
New Delhi, 11th June 2021: Mars, Incorporated the global pet care, food and confectionery business responsible for producing some of the world's best-loved brands such as ORBIT®, DOUBLEMINT®, M&M's®, SKITTLES®, SNICKERS®, TWIX®, GALAXY® and PEDIGREE®, has pledged to offer critical medical equipment worth $100K as part of its ongoing efforts to support the community in battling the current health crisis in India. In partnership with Sankalp Beautiful World, Mars aims to help over 10,000 people in Tamil Nadu.
Addressing the need for medical equipment raised by medical professionals on the frontline, Mars has provided the sameincluding70 oxygen concentrators for patients in hospitals as well as home quarantine, 200 oxygen masks and200oxygen central pipeline flow meters, amongst others. This support has been extended in Chennai , Madurai, Tutcorin, Coimbatore, Trichy, Tirunelveli and Erode.
Mr. Kalpesh R Parmar, General Manager, Mars Wrigley, India said, "The past few months have been Difficult and times like these, require us to step up and support one another. Mars has always been committed to India and the health and well-being of our communities is our priority. We have been working with frontline workers and communities in different parts of the country since last year, and this initiative is another step towards ramping up the medical infrastructure in Tamil Nadu. It is heartening to see everyone rallying together to help in whatever way they can."
Talking about the initiative, GouthamChander, Founder & CEO, Sankalp Beautiful World, said, "Mars'gesture to support front line workers, health care professionals and patients with oxygen concentrators and medical aid is timely. We are indeed thankful to the company."
This support is a part of many such initiatives being undertaken by Mars not only for the wellbeing of its workforce, but also for the communities where it operates and sources its ingredients. Mars had earlier rolled out a series of comprehensive health & well-being initiatives, benefitting more than 6,000 Associates, contracted workers and people who support the business in India. This includes corporate vaccination sponsorship for Associates and their family members and contractors to help and encourage them to take this significant step in fighting this battle, along with other support measures.
Through its partnership with Sankalp Beautiful World, Mars has reached out to over 3.75 lakh covid warriors and over 20,000 stray animals have been fed since last year with 10.5 tonnes of dog and cat food from Pedigree.