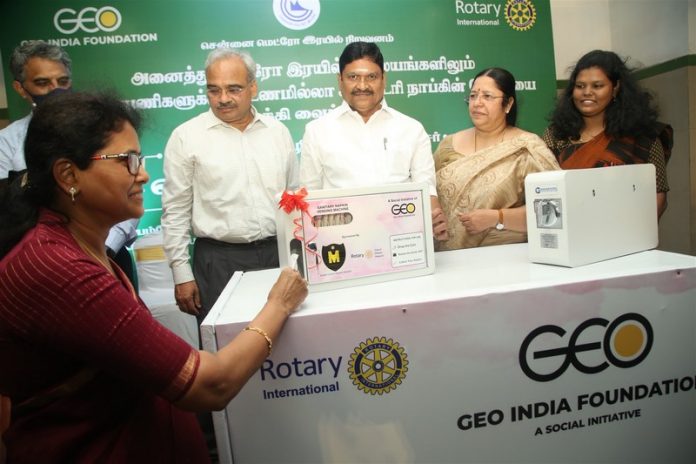 M.P.Sampath Hon'ble Minister for Industries, Govt. of TN inaugurated  Free Sanitary Napkin Dispensing units Initiative by Geo India Foundation donated by Rotary International to All 39 Chennai Metro Station.
 Thiru. M. P.Sampath Hon'ble Minister for Industries, Govt. Of TN inaugurated a facility to dispense Sanitary Napkins for emergency use by women travellers of Chennai Metro at an elegant function held at Koyambedu Station .Free Sanitary Napkins refilling will be taken care by Geo India Foundation
Also present on the occasion were Smt, Kamala Muthu Palaniappan , First Lady of Rotary Dist.3232, and CEO of Chennai Metro Thiru Pradeep Yadav And Rotary  Presidents
– Sarada Ramani from Rotary club of Chennai Thiruvanmiyur, Thiru Ganesh Ra from Rotary Club of Madra Metro, Ms Vidya Srinivasan from Rotary club of Madras Temple city,
Mr Shrenik Vaid from Rotary club of Magnum, Sharath Kumar from Rotary club of Guindy, Mr Selvamuthukumar from Rotary club of Chennai Cosmos Ms Jayanthi Karthikeyan from Rotary club of Chennai Spotlight and Mr Aravindhan from Rotary club of Chennai Neithal, along with Ms Kaviya and Ms Thara from DreamTN NGO
Under the Rotary Action Group WASH (Water, Sanitation and Hygiene) initiative   8 Rotary Clubs of Rotary International District 3232  – viz,  Rotary club of Chennai Thiruvanmiyur, Temple City, Magnum,  Guindy, Neithal,  Cosmos and Spotlight along with DreamTN  and Geo Foundation India have joined  this noble initiative of providing Freedom on Wings  to the women travellers.
The Sanitary Napkin dispensing machines will be placed in the women toilets in all the 39 Metro Stations and is coin operated and will be totally free of cost. It will serve women who may have such emergencies need for napkins.
Lauding the initiative , Hon'ble  Minister Thiru. M. P.Sampath spoke about how women welfare was always the focus of Amma and AIADMK . Speaking about the expansion of the Metro rail which was recently inaugurated by the Prime Minister , he said that the services now extend to WIMCO nagar and will be a great boon to the labour travelling from there into the city for work . He was appreciative of Rotary and Geo to have partnered for this much needed service for women . He also requested them to take up similar activities for women who would be employed in large numbers with more than 5 big industries coming up in the next 2 years in Tamil Nadu, taking it to one of the top 10 manufacturing locations globally.
The Guest of honour Smt. Kamala Muthupalaniappan spoke about the role of Rotary in disease prevention and how WASH has been a core project of Rotary. Since 2013, The Rotary Foundation has invested in more than 1,000 WASH projects in more than 100 countries. Through grants from The Rotary Foundation and fundraising by Rotary clubs, Rotarians , Rotary has supported water purification, hygiene education, latrine construction, and waste management.
She spoke about the far reaching effect of making water available to drink and for Sanitation, preventing waterborne diseases  through  basic cleanliness , leading to healthier children, regular  school attendance and better learning outcomes. WASH has been an integral part of COVID management and prevention, she added.
Speaking on the occasion – The MD of Chennai Metro said that they are taking all out efforts to make Metro travel safe in these pandemic times as well as maintain the fairs to be affordable travel in these times.
Rtn. Sarada Ramani who was representing the team of Presidents said that this project was undertaken at a total cost of Rs.5.00 lakhs. The maintenance would be undertaken by GEO foundation.  She added that it was the first step to work with Chennai Metro, and Rotary would be collaborating with them in many similar programs to increase awareness of health and other civic issues.
She was very happy that this project was inaugurated on the same day as the very first Rotary meeting was held in 1905 by Paul harris with 3 friends in Chicago.
Thanking the Minister, Ms. PriyaJemima George said Geo foundation was committed to the welfare of women and have been providing menstrual pads free to more than 100 schools in chennai.
Break the silence – Speak up about Menstrual Hygiene
.
More than 800 million people menstruate daily. The UN has recognised menstrual hygiene as a global public health and human rights issue.
Globally 1.2 billion women  suffer from Period poverty viz. lack of access to sanitary products, menstrual hygiene education, toilets, hand washing facilities, and, or, waste management.
Achieving menstrual equity means access to sanitary products, proper toilets, hand washing facilities, sanitation and hygiene education, and waste management for people around the world all.
Meeting the hygiene needs of all adolescent girls is a fundamental issue of human rights, of dignity, and public health
The world must act to end period poverty and guarantee clean water and sanitation for all by 2030. Promoting menstrual equity is key to supporting women and young girls.
This project is small step towards achieving this goal .