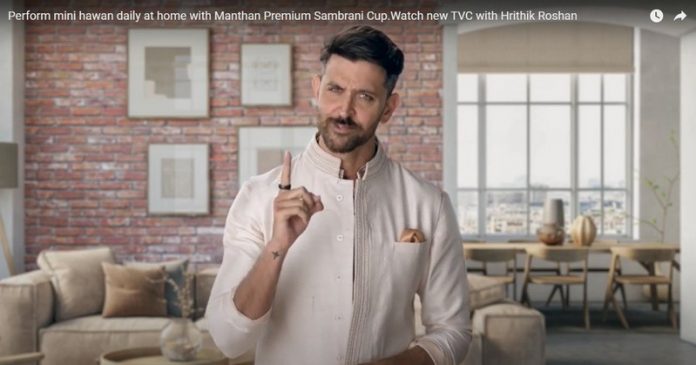 With the ongoing festivities in India, Manthan's new ad film with Hrithik Roshan talks about a 'Mini Hawan' with Manthan Premium Sambrani Cups
Mumbai,  As a part of the latest phase of its marketing campaign – 'Manthan Zaroori Hai', featuring Indian superstar Hrithik Roshan – Zed Black  has launched its second TVC  for Manthan Premium Sambrani Cup today. The leading dhoop brand reminds us to allow oneself a moment of peace and connect within, deeply with a single Sambrani cup that creates the aura of a Mini Hawan at Home which encompasses the benefits of the same. The company, which is amongst the top three agarbatti manufacturers and exporters in the country sells over 15lac retail packs of agarbatti across a wide range of fragrances daily.
The TVC unveils Hrithik Roshan in a traditional, ivory bandh gala looking simple yet suave talking about how igniting one Sambrani Cup, made from purest & natural Guggal, gives the feel of a mini hawan at home.
The Manthan Premium Sambrani Cups are a powerful source of mixed aromatic herbs & exude positive energy which gets rid of any impurities in the environment and negativity.
Conceptualized by Oberoi IBC, the TVC aims to capture the functional essence associated with the product. The brand message #ManthanZarooriHai goes beyond the traditional definition of success and believes that peace and happiness lies beyond the ordinary path, as one has to introspect and believe to take the untrodden road of life.
"In India, aromas are a popular tool to stir emotions. So I would say, our association is deeply mindful, One, that identifies the purpose, needs, wants and demands of the Indian household", said Hrithik Roshan.
With abundant festivities, incenses have always been an indispensable part of all religious functions in India.
"For the last 29 years, MDPH Group with its flagship brand Zed Black and now Manthan has promoted Indian values & ethos through soothing fragrances.Through our latest TVC, we urge millenials to revel in their own company and practice 'manthan'. The divine fragrance of Sambrani Cup will create that heavenly atmosphere for worship and create a Hawan like environment in Indian homes, to boost the power of prayers, especially during this pandemic," said Anshul Agrawal, Director & Partner, MDPH Group. "As, amongst the top three incense stick manufacturers in the country with innovation & quality at the heart of our business, going forward with this association with our Brand Ambassador, Hrithik Roshan, our plan is to create a steadfast brand presence nationally".
"Zed Black has grown into one of the best incense brands in India. The new campaign with Hrithik Roshan will definitely take the brand to new heights given his mass popularity and appeal. It's exciting to work with such a talented personality, who shares similar understanding of Indian culture & lifestyle", said Anand Oberoi, Managing Director, Oberoi IBC
The campaign featuring Roshan will be out on all major print and digital platforms and is all set the tone for an exciting festive season ahead for brand Manthan. Last month, Fans went gaga over Hrithik's 'Manthan Zaroori Hai' dance step choreographed by Farah Khan.  Hrithik Roshan joined MS Dhoni, who has been associated with the brand as the ambassador for Zed Black 3-in-1 Agarbattis.
MDPH has set up the world's largest raw-agarbatti manufacturing unit in Indore.The company provides employment to 3500+ rural workforce.  The big picture is that they are successfully present in all segments of Puja categories such as Agarbatti, Dhoopbatti, Dhoop Sticks and Sambrani. The company also has set a strong global footprint with exports to 30+ countries like USA, Brazil, Ethiopia, Netherlands, Australia, Malaysia etc in 6 continents.