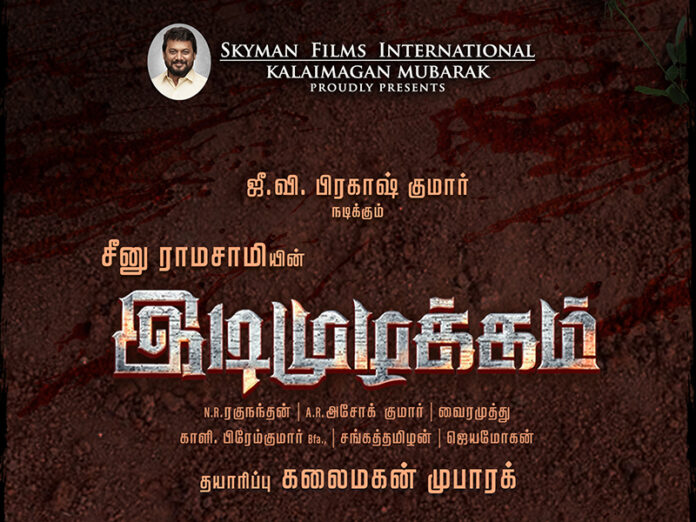 SKYMAN FILMS INTERNATIONAL PRODUCER KALAIMAGAN MUBARAK PRESENTS
GV PRAKASH-GAYATHRIE STARRER FILMMAKER SEENU RAMASAMY'S "IDIMUZHAKKAM" PRE-LOOK GLIMPSE GETS A PHENOMENAL RESPONSE
Skyman Films International Kalaimagan Mubarak's forthcoming production 'IDIMUZHAKKAM' starring GV Prakash Kumar and Gayathrie in the lead roles, directed by Seenu Ramasamy has been generating a great buzz from the time of its commencement. With a producer like Kalaimagan Mubarak, who leaves no stones unturned over elevating the value of his productions with the best measures and promotional tools, a critically acclaimed filmmaker like Seenu Ramasamy, who is synonymous with content based on realisms and emotional touch, and GV Prakash Kumar, the darling of youngsters playing the lead character, Idimuzhakkam has garnered a phenomenal pre-release buzz. What has become so much amazing is the Pre-Look, released prior to the unveiling of the first look gaining a colossal reach. Usually, The A-league stars alone enjoy this privilege, but now, it's astounding to see that GV Prakash has obtained this stature of love and honors from the audiences and fans. His back-to-back commercial success of movies that are praised for important and unique content has scaled great heights for him… Apparently, the first look of this movie appeals more convincingly to the interests of audiences, who are assured of yet another content-driven movie from the great team.
NR Raghunanthan is composing music and Kaviperarsu Vairamuthu is penning lyrics. Apart from GV Prakash Kumar and Gayathrie, the others in the star cast include Saranya Ponvannan, MS Bhaskar, Aruldoss, and a few more prominent actors.