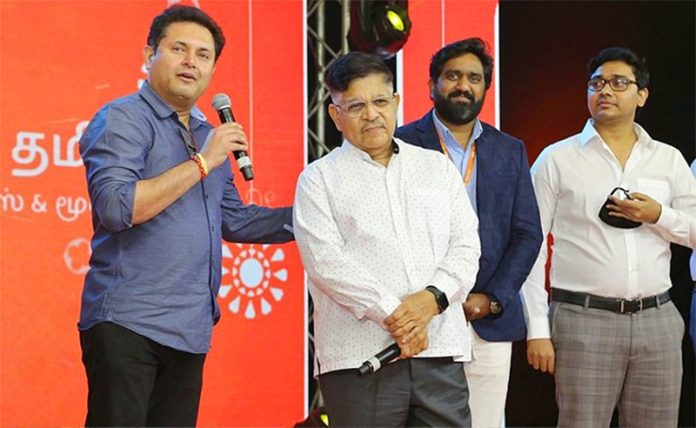 Aha Tamil OTT Grand Launch at Chennai
The grand launch of Aha Tamil OTT app happened this evening here in Chennai. The occasion witnessed the coming together of the eminent personalities from the Tamil movie industry. The event started on a traditional note of the specific invitees lighting the Kuthu Vilakku followed by a classical dance performance.
Here are some of the excerpts from the event.
Producer Kalaipuli S Thanu said, "I welcome Allu Aravind sir back to Tamil domain. My friendship with him dates back to days of Superstar Rajinikanth's Maapillai. He is such a congenial personality and his calculations never go wrong. I wish him great success with this new mission, and he is sure to take Tamil media to next level."
Producer Allu Aravind, Founder, Aha Tamil delivered his welcome speech by sharing his special moments with his industry friends said, "I left Chennai before 20 years, and this is an emotional moment for me to come back home. I thank my father for introducing me into film industry. The idea behind the origin of Aha app was when I binge watched Netflix for longer hours, and I saw the same with my son as well. This instilled in me the idea to come up with a similar concept as thr trend is catching up very well across all age groups. I thank everyone, who supported me in making my vision come true."
Producer RB Choudary, Super Good Films said, "Allu Aravind has a golden touch that has kept spinning profits for everyone involved in the trade. I am sure Aha Tamil will the next one to join this league."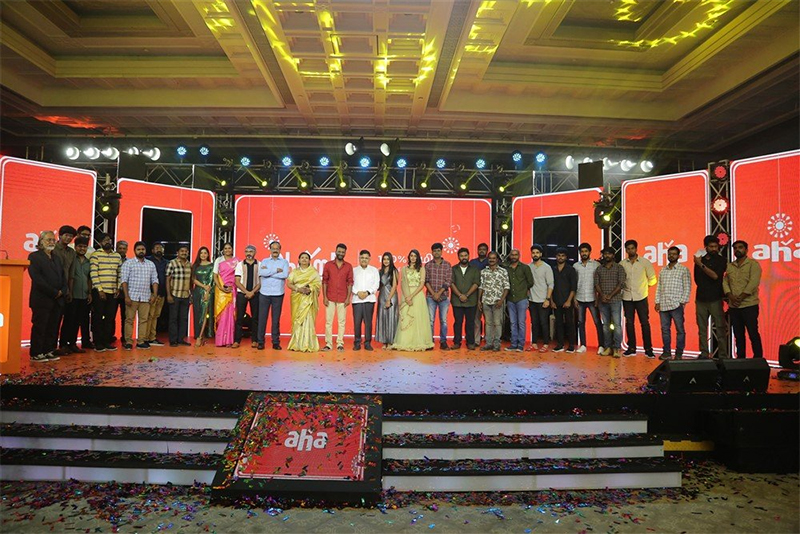 Director KS Ravikumar said, "OTT platforms have become boon for many producers in the industry. Allu Aravind sir is such a genius when it comes to bringing the best contents to a wider reach, and with Aha Tamil, the contents are going to witness a phenomenal reach."
Director-Producer Pa Ranjith said, "Its a great moment for all of us in the team of Writer as Aha Tamil has offered a wider reach by releasing it today. Small budget movies always go through mediocre theatrical release and Allu Aravind sir's Aha Tamil is a gift to such movies."
Actor Jayam Ravi and Music Director Anirudh unveiled the logo of Aha Tamil.
Actor Jayam Ravi said, "We have already come across many Apps that have often confused us, but Aha Tamil is going to be an one stop destination as it is completely dedicated to Tamil audiences. I welcome back Allu Aravind sir back to Madras. I wish him all the best for a grand success.'
Music director Anirudh said, "I have a small connection with Aha and the announcement pertaining to this will be made soon. I am happy to be a part of this Aha Family."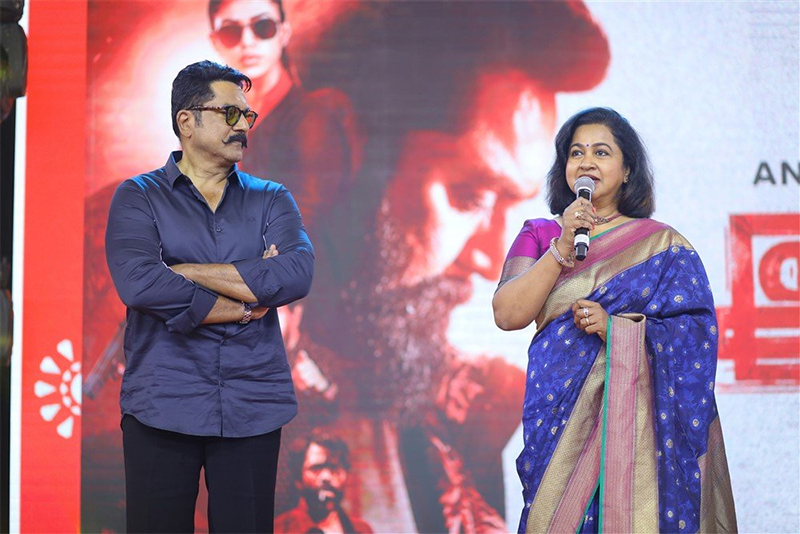 Actor Kavin said, "I thank Allu Aravind sir for showing interest in Akashvani and getting it materialized. The AHA platform is going to be a special delight for everyone."
Director K Bhagyaraj said, "Allu Aravind sir is such a gem and humble person despite his greater progress as producer across the years. He knows the pulse of audiences, and the creation of Aha Tamil is going to be a special illustration of it "
Actress Khusboo said, "When myself and my husband Sundar C embarked on a journey as producers, we wanted somone to be our role model and we chose you. The way you plan and design the projects in a unique way is inspiring and phenomenal. Being successful is the nature of Allu Aravind sir and this one is going to be yet another illustration."
Director Siva said, "Allu Aravind sir is such a perfectionist, and his working pattern is a blue print for many of us. I wish the entire team of Aha for a grand success."
Actor Sarathkumar said, "I thank Allu Aravind sir for such a great vision dedicated to the well being of Tamil industry. We have done the series Irai, which will deal with a social issue. I wish the entire team of Aha for the grand success of all their works."
Actress Radhika Sarathkumar said, "Allu Aravind has taken a huge effort for the sake of Tamil industry. This is a fantastic opportunity he has created. The series is based on the novel Birds of Prey, directed by Rajesh M Selva. I thank Allu for being such a great support."
RJ Balaji said, "Although OTT platforms are found in plenty, the arrival of Aha Tamil is going to be a boon for the Tamil industry. I request this team to give chance to the young talented actors and technicians to showcase their potentials."
Actor Manikandan said, "I have always admired the great vision, mission and genuineness of Allu Aravind sir. I am happy that our movie Sila Nerangalil Sila Manidhargal is premiering on Aha Tamil."
Actor Ashok Selvan said, "I am happy that our movie Sila Nerangalil Sila Manidhargal got good reviews. And now, I am elated that the movie is going to find a wider reach through the premiere on Aha Tamil."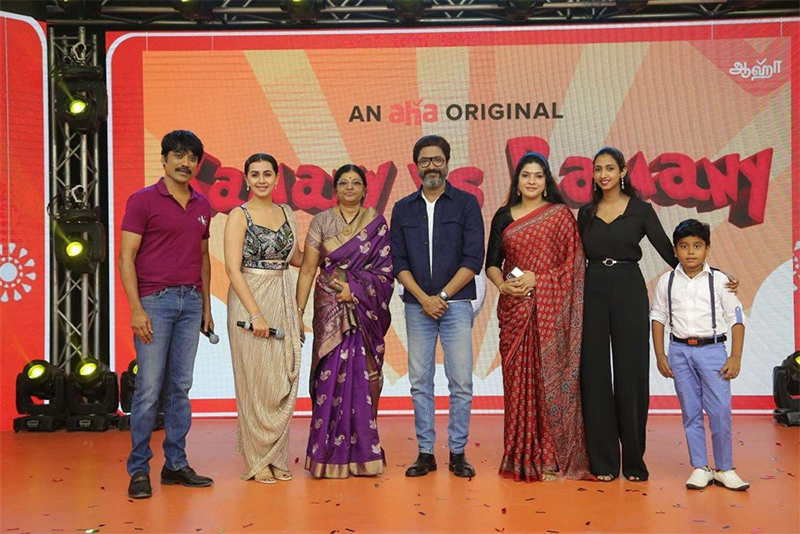 Actor SJ Suryah said, "The great thing about Allu Aravind sir is his nature of forgiving. I have listened to many of such instances. He is the root of creating three superstars in the Telugu industry. I wish the entire team of Aha Tamil, a grand success."
Actress Nikki Galrani said, "My first movie in Tamil Darling had the Midas touch of Allu Aravind sir. I. glad that he has launched Aha Tamil, which is going to be a boon for the entire industry."
Producer Pusha Kandhasamy said, "I am so glad that our content Ramany Vs Ramany franchise is happening with Aha Tamil. We were so much amazed with the response of our previous seasons that we uploaded on YouTube during the Lockdown and this prompted us to get-go with this new idea."
Director Balaji Mohan said, "I am happy to be associated with the Aha Team. I got lots of opportunities to interact with Allu Aravind sir. I learnt a lot from him. He is experienced and keeps adapting to the change. Its been a fruitful experience working with him. I am glad that my long time associate Vignesh has created this show."