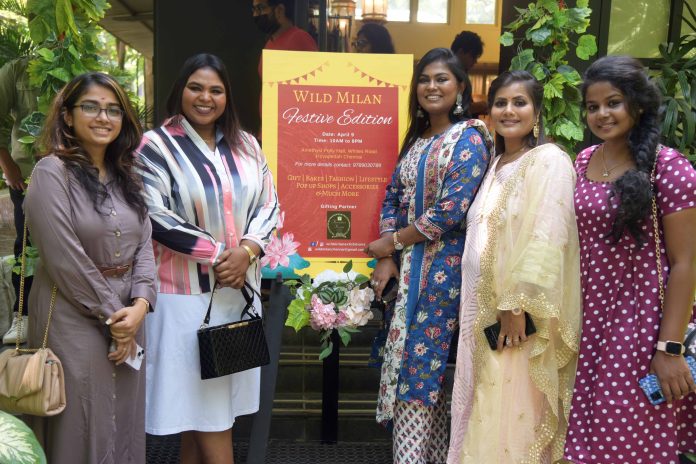 WILD MILAN POP UP SHOPPING FEST inaugurated by Ms.Akshaya, Ms.RJ Mirch Ash & Ms.Gunj Jain at Amethyst
  An exclusive pop up show by Wild Milan featuring small scale businesses which includes food, clothing, accessories, sustainable goods, footwear from all over India at Amethyst Folly Hall.
Wild Milan motive is to support small scales and home-grown businesses.
Wild Milan pop up show presents a mix of fashion, appetizing food and uncompromising shopping experience at the most happening place of the city Folly Hall, Amethyst Chennai
This show is created especially for Small scale businesses, who mostly conduct business through online platform, this is an opportunity for them to exhibit their products to our exclusive clientele
We are coming up with more shows pan India, showcasing the products of many young and talented entrepreneurs. This Festive shopping Edition by Wild Milan will meet all your shopping needs right from Handmade clothing, footwear and accessories to Food, toys, Art and craft, vegan skin care and many more eco friendly and sustainable products.
List of brands participating
CLOTHING BRANDS
DRESS UP
SHINE BOTIQUE
SRI SINDUJA DESIGNS
GO CHIC
KHIAS
BRATZ AND CUTIES
JYOTHI COLLECTIONS
METHOD
SDM DRESSES
ABIVRIKTHI
ANSRUSTAS SILKS
SAMAIRAA
SUSTI
FLUFFY MUNCHKINS
ACCESSORIES BRANDS
GO CHIC
KI & KA
JHUMKA COLLECTIVE
ONLY BAGS
WUBU PRINTZ
NAILS ND BEYOND
ENCHANTED STUFFS
SRI SAI COLLECTIONS
NAIL TALK
IKUTTY GALLERIA
ADHUS BOTIQUE
DUDU PROP STORE
DECOR,FOOD &MORE
KOLKATA LINENS
SWEET SURPRISE
BUTTER UP
AROMA BAKING
INKA NUTRITION
GANESH PRODUCTS
GREAT INDIAN SWEETS
ORGANIZERS PROFILES
Siri Chandana Reddy
Siri is a finance professional who quit her corporate job, a first-generation entrepreneur who started a sari brand whose motive is to bring back the forgotten weaves and crafts of India, and make them a part of every one Wardrobe, Her passion is to support startup's &  Young Entrepreneurs and provide them a platform to show case their product & services
Gunavathy Ghun Jain
Ghun is an avid social media Lifestyle influencer with a followers of 55.6 K. She is co-founder of Susti for Life, which has latest collections of sustainable unisex Shirts and Kaftans.
Wild Milan is a Dream project of three friends Eshitha, Siri and Ghun whose aim was to create a platform for Small and Upcoming businesses at affordable pricing.
CHIEF GUEST FOR THE POP UP SHOW ASHWINI GOVINDARAJU RADIO JOCKEY & AKSHAYA.
SOME MORE GUESTS
1. RANJITHA BADRADRI
Fashion designer
Founder of Brand Tamaara
2. Malarkodi Jeevarathinam
Welfare of Differently Abled Persons Department,
Government of Tamil Nadu
3. Dr. Thenmozhi
BDS, Mcip, frsh (London)Fmc (cosmetologist)
Director of Beesmile
4. Dimple Chauhan
Anchor
Mrs.Chennai 2019
5. Kiran Gulzar
Actor and Model
6. Queita Cisiliya
Designer & Stylist
Founder : Silk weavers of India & E3 couture
7. Dr. Janani Jayapal, Assistant Professor and Chief Invisalign and Braces Specialist at Sculpt Dental Studio
8. Sonali jain
Ceo of Grevents
9. Ms.Latha Naidu
Managing director
GJ rang events
10. Rama rajesh
Consultant – People Relations