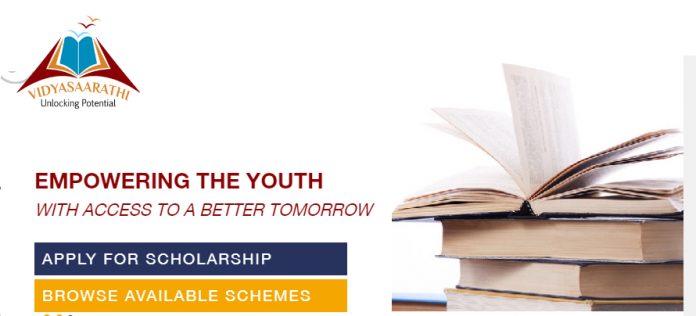 Vidyasaarathi partners Astral Foundation for scholarships to college students in Gujarat
~ Programme to benefit meritorious students for various courses ~ 
Mumbai, Vidyasaarathi, the education scholarship portal of NSDL e-Governance Infrastructure, announced today its partnership with Astral Foundation Scholarship Programme to offer scholarships to meritorious students currently pursuing undergraduate, engineering and diploma courses in Gujarat.
Under the scholarship programme, deserving students from the state who have enrolled for courses such as Diploma in B.E./B.Tech., B.Sc. in Agriculture and other undergraduate courses including B.Sc., B.Com and B.A. etc. will be able to fund their education and fulfil their career aspirations.
The scholarship will be available to anyone who has scored a minimum of 50% in his or her 10th and 12th standard and whose parents have annual family incomes of Rs. 5 lakh and below. More details are available at www.vidyasaarathi.co.in
Mrs. Jagruti Sandeep Engineer, Director, Astral Foundation, said, "We truly believe in the right to education for all. Education is the most basic and necessary foundation for all students and we want them to pursue their education and chase their dreams without facing any hassle of financial burden. We are pleased to partner with NSDL e-Governance and on-board our scholarship programme on the Vidyasaarathi portal and hope to fulfill all educational aspirations of the students to the best of our ability."
Vidyasaarathi, as an Astral Foundation collaborator, has been entrusted with the responsibility of managing the entire scholarship lifecycle – including validation of the application, award of scholarship, disbursement of funds, etc. The new scholarship programme will now allow the students from Gujarat to pursue their dreams and give an impetus to their zeal for learning.