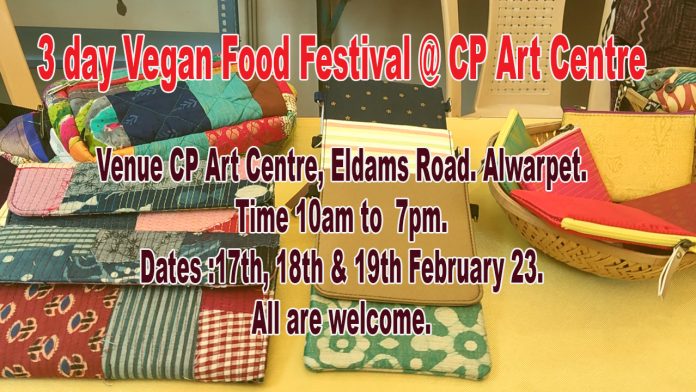 VEGAN FESTIVAL – LET'S GO GREEN AT C.P.R. ENVIRONMENTAL EDUCATION CENTRE, CHENNAI  – 17, 18 & 19, FEBRUARY 2023
C.P.R. Environmental Education Centre (CPREEC) is a Centre of Excellence in Environmental Education. It was set up in the year 1989 by the Ministry of Environment and Forests, Government of India and the C. P. Ramaswami Aiyar Foundation.
CPREEC with the support of the Karuna Foundation is implementing a project titled Food and the Environment – Eat Healthy and Go Green in the states of Tamil Nadu, Andhra Pradesh, Karnataka, Telangana and Odisha.
Livestock farming has a vast environmental footprint. It contributes 18% of greenhouse gas emissions worldwide. Climate crisis is evident. Milk producing cows are artificially inseminated. Every sip of milk has 59 different powerful hormones which are harmful to human health. In order to help mother Earth out of climate crisis, we can substitute milk by consuming calcium and protein rich leafy vegetables, lentils, legumes, green soya, soya beans, mushroom, etc.
To highlight the importance of Veganism. CPREEC has organized the second Vegan Festival – Let's Go Green at the C.P. Art Centre, 1 Eldams Road, Alwarpet, Chennai 600 018 on February 17, 18 and 19, 2023.
Dr. S. Chinny Krishna, Co-Founder and Chairman, Blue Cross of India has consented to inaugurate the Vegan Festival – Let's Go Green on Friday, February 17, 2023 at 10.00 a.m.
Brands on display are
The Viridian Plates – Vegan food
Nature's Trails – Wellness products Vijay Sweets
Catalyst Food – Mayo and Mock meat
Tamu Tamu – Fresh Foods
Raw Earth – Cosmetics
Jananom Natural Nutrition – Plant based health mixes
Cooper Products – Belts and wallets
Soy Vita-Soy beverage powder
Ajantha KTK Products
Muppaal Vegan white chocolate
Taze' Vegan and Plant Based Cloud Kitchen
Parul's Magic – Homemade pickles, masalas, podis 1
Chatore Vegan Home Food – Millets
Heaven's Elix Probiotics – Kombucha
Tastry Tales
Ekolyfe Cafe & Store – Beverages
Kicks on a Roast
Harita Sarees
Earthen Hue
Upcyclie