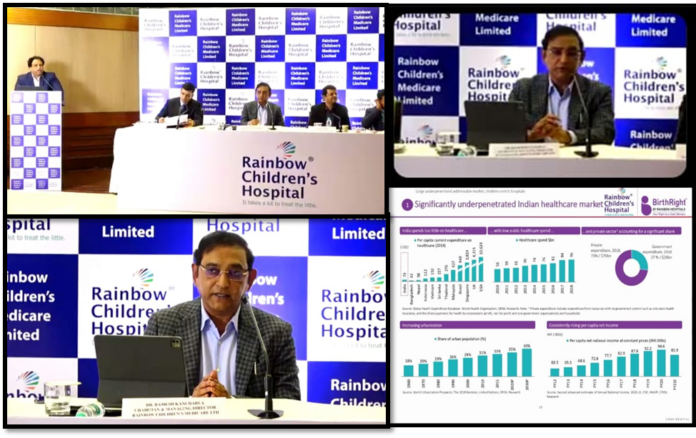 Rainbow Children's Medicare Limited: Initial Public Offer to open on April 27, 2022
· Price Band fixed at Rs 516 to Rs 542 per Equity Share of face value of Rs. 10 each 
· The IPO closes on Friday, April 29, 2022.
The initial public offer of Rainbow Children's Medicare Limited, a leading multi-specialty pediatric and obstetrics and gynaecology hospital chain in India, operating 14 hospitals and three clinics in six cities (Hyderabad, Bangalore, Chennai, New Delhi, Vijayawada and Vishakhapatnam) with a total bed capacity of 1,500 beds, as of December 31, 2021 opens on Wednesday, April 27, 2022.
The Price Band of the Offer has been fixed from Rs. 516 to Rs. 542 per equity share of face value of Rs. 10 each. Bids can be made for a minimum of 27 Equity Shares and in multiples of 27 Equity Shares thereafter.
The IPO comprises of fresh issue aggregating up to Rs. 280 Crore and Offer for Sale up to 24,000,900 equity shares by Promoter Selling Shareholders, Investor Selling Shareholders and Other Selling Shareholder. The offer also includes Employee Reservation Portion of up to 300,000 Equity Shares.
Company proposes to utilise the Net Proceeds from fresh issue towards, Early redemption of NCDs issued by the Company to CDC Emerging Markets Limited, one of its Group Companies, in full amounting to Rs. 40 Crore; Capital expenditure towards setting up of new hospitals and purchase of medical equipment for such new hospitals, amounting to Rs. 170 Crore; and rest towards General Corporate Purposes.
According to the CRISIL Report, Rainbow Children's Medicare had the highest number of hospital beds amongst comparable players in the maternity and pediatric healthcare delivery sector, as of March 31, 2021. Under the leadership of Dr. Ramesh Kancharla, the founding Promoter, Rainbow established its reputation as a leader in multi-specialty pediatric services, with strong clinical expertise in managing complex diseases. It also expanded operations to include obstetrics and gynecology services, whereby it offers comprehensive perinatal services to patients. Five of Rainbow's hospitals are accredited by NABH and three of its hospitals are certified by EDGE.
Rainbow follows a doctor engagement model whereby most of its core specialists work exclusively at the hospitals on a full-time retainer basis. This model ensures that most of its core specialists are available 24/7 on a roster basis at the hospitals, which is particularly important for children's emergency, neonatal and pediatric intensive care services. As of December 31, 2021, Rainbow had 641 full-time doctors and 1,947 part time/visiting doctors. Rainbow's fulltime doctor model along with a strong middle grade doctor pool ensures seamless healthcare delivery across its hospitals, which has resulted in a high degree of patient satisfaction.
Kotak Mahindra Capital Company Limited, J.P. Morgan India Private Limited and IIFL Securities Limited are the Book Running Lead Managers.