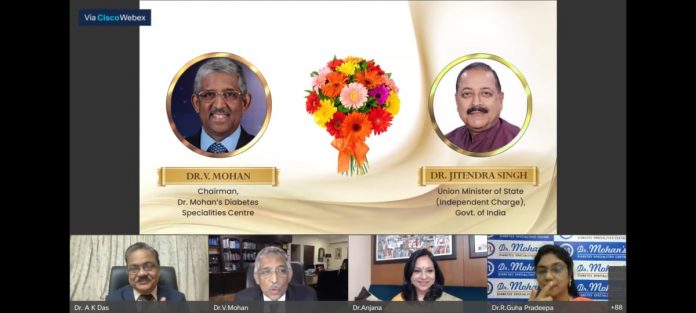 MOHAN'S CELEBRATES 100 YEARS OF INSULIN DISCOVERY
̴̴̴Honours veterans who have lived healthy lives with Type 1 Diabetes (T1D) for over 60 years
Chennai, On the occasion of 100 years of Insulin discovery, Dr. Mohan's Diabetes Specialities Centre, one of the largest Healthcare groups in Asia devoted to the treatment of diabetes and its complications, today announced the first edition of 'Victory over Diabetes Awards'. It's a first of its kind award instituted in India.
The announcement was made at a virtual gathering in the presence of Dr. Jitendra Singh, Hon'ble  Minister of State (Independent Charge) for the Ministry of Development of North Eastern Region & Minister of State for Prime Minister's Office, Government of India. Dr. Singh lauded Dr. Mohan's Diabetes Specialities Centre's unwavering endeavour over the past three decades towards diabetes treatment and care.
Speaking on the occasion, Dr. V. Mohan, Founder Chairman & Consultant Diabetologist, Dr. Mohan's Diabetes Specialities Centre said, "Despite the pandemic, 2021 is a year to celebrateas it marks the centenary of one of the most important breakthroughs in the history of medicine – the discovery of insulin in 1921 at the University of Toronto, Canada.Prior to this landmark discovery, children with Type 1 Diabetes (T1D) lived only for a few months. Survival beyond 2-3 years with T1D was virtually unheard of at that time. Insulin changed all that dramatically and individuals with T1D started living healthily for several decades. In the West, even 80 – 90 years survival of individuals with T1D has been documented. Unfortunately, in India, long term survival of T1D individuals has not been documented till date. So as a befitting tribute to 100 years of insulin discovery, we decided to make a start towards identifying such individuals in our country who have lived healthily with T1D for over 60 years, and rewarding them for their health discipline and perseverance." 
This year Mr.K.Krishnaswami, Chennai; Ms. Mina Fernandes, Mumbai; Mr. SRV Prasanna, Coimbatore; Ms. Usha Dhiman, Delhi; Mr. Rajiv Kaicker, Delhi; and Mr. Rakesh, Gurgaon  were presented with the 'Dr. V. Mohan Victory over Diabetes Medal' by Dr. Jitendra Singh for leading healthy lives with T1D for over 60 years.
Mr. LakshminarayanaVarimadugu, (Certified digital accessibility tester), who is blind since birth and later developed T1D in adolescence was presented with the 'Type 1 Diabetes Hero Award'. Hecontinues to be a motivation for children with T1D. 
Dr. Mohan's Diabetes Specialities Centre also honoured several T1D Foundations started by people with T1D with the 'T1D Ambassador Award' for their role in providing support to those withT1D.
"It's sad that even after 100 years of insulin discovery, lives of children with T1D are still being lost. Insulin should be made a fundamental right of all human beings. If this happens (and I do hope that it happens soon), it would be the best way for us to celebrate the epoch-making discovery in the summer of 1921. And we hope to present more 'Victory over Diabetes Awards' from next year onwards," added Dr. R.M. Anjana, Managing Director of Dr. Mohan's Diabetes Specialities Centre.