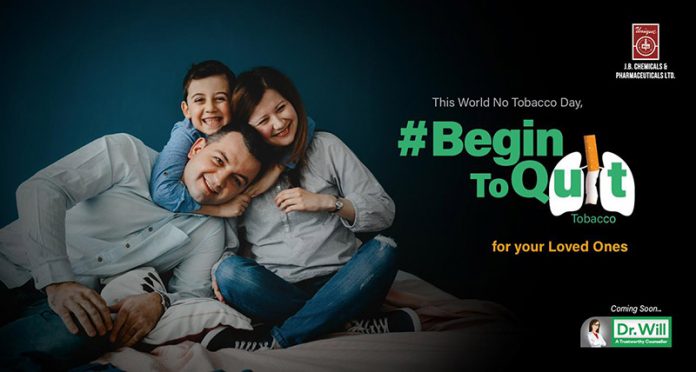 J. B. Chemicals & Pharmaceuticals Ltd. (JBCPL) launches 360o Tobacco Cessation care on World No Tobacco Day – 'NOSMOK®' medicated nicotine lozenges for nicotine replacement therapy and AI-enabled Chatbot ''Dr. Will'' to help quit smoking
·         'NOSMOK®' prescription medicated nicotine lozenges will be available as 2mg and 4mg lozenges in sugar-free and sugar-based variants
·         AI-enabled Chatbot 'Dr. Will' is a comprehensive digital program that will support doctors in counselling smokers in their tobacco cessation journey 
Mumbai, J. B. Chemicals & Pharmaceuticals Ltd., (BSE: 506943, NSE: JBCHEPHARM), one of the fastest-growing pharmaceutical companies in India today announced the launch of NOSMOK® prescription medicated nicotine lozenges as part of a 360o Tobacco Cessation initiative on 'World No Tobacco Day'. NOSMOK® nicotine lozenges will help in reducing the urge to consume or smoke tobacco and relieve the psychological and psychomotor withdrawal symptoms and help them in their tobacco cessation journey. The medicated nicotine lozenges will be available in Mint flavour as sugar-based and sugar-free variants in 2mg and 4mg strengths. These lozenges are a part of the global JBCPL portfolio which are being introduced in India. 
On this occasion, an AI-enabled Chatbot 'Dr. Will' has also been launched to encourage and support tobacco smokers to quit smoking and improve their quality of life. 'Dr. Will' is a comprehensive digital program that will help smokers in understanding their smoking triggers and motivate them to succeed in quitting. It will also support doctors in counselling smokers to quit the habit.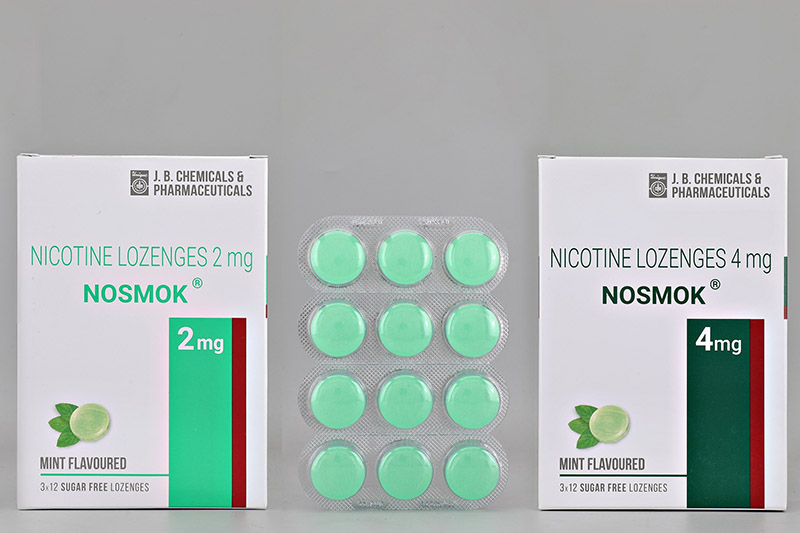 Mr. Nikhil Chopra, CEO & Whole Time Director, J.B. Chemicals & Pharmaceuticals Limited said, "India's death burden and the economic costs from tobacco usage are unacceptably high and it is critical that we address this issue. Studies indicate that over 55% of tobacco users are willing to quit all forms of tobacco. However, quitting tobacco is a challenge, especially with the added social and economic stresses because of the pandemic. Our study of the market led us to realize that a successful tobacco cessation initiative would require not just Nicotine replacement therapy but also patient education and support through the journey to quit smoking. This has led to our launching nicotine replacement pharmacotherapy, NOSMOK® accompanied by a digital AI-enabled WhatsApp-based chatbot, 'Dr. Will'. We are confident that these will help tobacco users and smokers to successfully beat their habit and emerge tobacco-free." 
Awareness of the impact of tobacco on health leads most tobacco users and smokers to quit, but they find it difficult to stop due to the addictiveness of nicotine. It is here that Nicotine replacement therapy plays an important role by temporarily replacing much of the nicotine from tobacco, reducing the need to consume tobacco or smoke and lessening the nicotine withdrawal symptoms. This helps to ease the transition from cigarette smoking to complete abstinence. Many clinical guidelines recommend Nicotine replacement therapy as a first-line treatment for people seeking medical help to stop smoking. 
JBCPL is one of the few companies to offer Nicotine replacement therapy in the form of medicated lozenges that contains nicotine. NOSMOK® will be available on prescription at leading chemists across major centres in 2mg lozenges and 4mg lozenges form. 
'Dr. Will' is a specially designed AI-enabled chatbot to educate and counsel for tobacco cessation. The chatbot will answer patient queries related to quitting smoking options, make relevant information and support available to its users. It is designed as a support mechanism and a helping hand to aid in the journey of tobacco cessation.