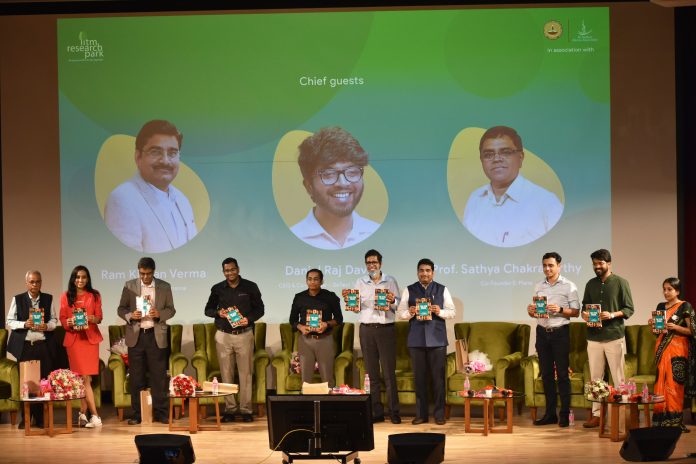 IIT Madras Research Park launches the IITM Nexus: A diverse view on the changing landscape of entrepreneurship – through the incredible journeys of 16 entrepreneurs from the mid-80s till today!
CHENNAI 2nd March 2022: The IITM Research Park (IITMRP) in association with IIT Madras and the IITM Alumni Association (IITMAA) held the book launch of The IITM Nexus on 1st March 2022. Notable entrepreneurs from the Indian startup ecosystem including Vineeta Singh (CEO, Sugar Cosmetics), Kedar Kulkarni (Founder, Hyperverge), RK Verma (Founder, Resonance Eduventures), Dr. Sathya Chakaravarthy (Co-Founder, ePlane Company), Daniel Raj David (Founder, Detect Technologies) and Enbasekar D (Founder, Medibuddy) were present to promote the book and interact with a sizeable audience of aspiring & upcoming entrepreneurs, IIT Madras students, faculty and the larger IIT Madras Alumni community.
Speaking on this, Enbasekar, Co-founder & CTO, MediBuddy, said, "It is an absolute honour and privilege to be recognized by your alma mater. I am excited to be a part of the Nexus book launch and interacting with my esteemed fellow IIT Alumnus. IITM will always have a special place in our hearts because it was instrumental in helping us build our company from the ground up. With this book launch, we hope that many young individuals will come forward to create ground-breaking solutions or services."
Adding to this Vineeta Singh, CEO & Co-Founder, Sugar Cosmetics said, "To be featured in 'The IITM Nexus' Book alongside so many of my role models is a privilege and a massive responsibility. I am very grateful to Dr. Jhunjhunwala who seeded the idea of entrepreneurship in me when I sought him out on my flight to Chennai at the age of 17. I'd highly recommend college students who aspire to become future entrepreneurs and want to learn more about other engineers who have become successful entrepreneurs, to right away pick up a copy of this book!".
"I am very happy and motivated to be a part of the book launch of The IITM Nexus and be one of the entrepreneurs featured here alongside my other esteemed alumni. To the students aspiring to become entrepreneurs, there is only one thing I would say which sums up the winning spirit in this book, Ruk Jaana Nahi Tu Kahi Haarke." said RK Verma, Founder & MD, Resonance Eduventures Ltd.
The IITM Nexus authored by Dr Shrikant Sundararajan, Shree Pandey & Shibani Shashin is a testament to the ambitious vision of IIT Madras, IITM Research Park & IITM Incubation Cell in inspiring, influencing, and nurturing entrepreneurs across the decades who have held illustrious achievements in India and globally.
It focuses on the journey of 16 IIT Madras alumni spanning across five decades and their rise towards becoming some of India's biggest entrepreneurial successes. Several entrepreneurs featured in the book have also been incubated at IITM Incubation Cell.
Speaking on the vision of The IITM Nexus, Professor Ashok Jhunjhunwala, President, IIT Madras Incubation Cell (IITMIC) and IIT Madras Research Park (IITMRP), said, "The stories of the start-up founders in this book is a mix of those who grew as entrepreneurs before incubation activity started at IIT Madras and those who were incubated with us at IITM Incubation Cell. I have personally known most of them; all I can say is that they were ordinary, and then they became extraordinary. I feel immensely proud today to see how far each of them have come. This is truly a testament to the vision that we have always stood by when nurturing entrepreneurs at the IITM Research Park and IITM Incubation Cell. Their passion to succeed despite the numerous challenges faced along the way is sure to motivate so many youngsters who will be inspired by their journey and dream big to make it as entrepreneurs themselves."
"This anthology of startup entrepreneurs' journey will serve as an inspiration for many aspiring students. I am indeed honoured to be part of this. This book firms up our resolve to pursue deep tech in India with renewed vigour." said Professor Sathya Chakravarthy, Co-founder, The ePlane Company.
The IITM Nexus throws light on the featured startup founders invaluable learnings from college and the steps they took towards building multi-million-dollar organizations, hoping to motivate & equip aspiring entrepreneurs with the right guidance & tools to build their own dream ventures.
The IITM Nexus is now available on Amazon | Notion | Flipkart (For India) Amazon.com | Amazon.uk (For International)