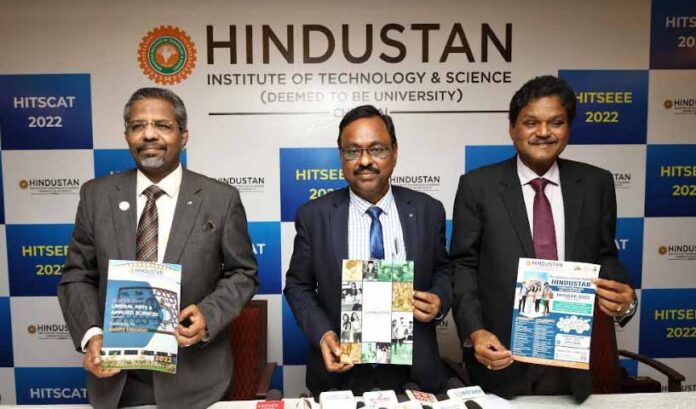 Hindustan Institute of Technology and Science (HITS) announces dates for HITS Online Engineering Entrance Exam – HITSEEE 2022 & HITSCAT 2022
10 Schools offer more than 100 programmes with Industry relevant and flexible curriculum with the option of add-on Honours and Minors Certification.
Chennai, Hindustan Institute of Technology and Science (HITS) has announced the dates for its online Engineering Exam – HITSEEE 2022 & Online Entrance exam for Liberal Arts & Allied sciences, School of Law and other programs- HITSCAT 2022. The Online Engineering Entrance Examinations are to be held for the academic year 2022-2023. The Institution has announced that the Online Entrance Examination will be held in two phases. Phase 1 will be held from 25th May 2022 to 30th May 2022. Phase 2 will be held from 16th June 2022 to 18th June 2022. Students can apply online through the university website – apply.hindustanuniv.ac.in
The last date for the submission of the Application form for Phase 1 is 23rd May 2022 and for Phase 2 is 12th June 2022, Results will announced on 20th June 2022 and the counselling will be take place on 24th June 2022 to 30th June :2022.
Commenced in 1985 Hindustan Institute of Technology and Science (HITS), a deemed to be university offers a wide spectrum of Undergraduate Programmes, Post Graduate Programmes, Diploma Programmes, Research and Doctoral Programmes in diverse fields of Engineering, Technology, Management, Architecture, Liberal Arts, Applied Sciences, Design, Allied Health Sciences and Law.  The Institution is part of the reputed Hindustan Group of Institutions which caters to the academic requisites of over 18,000 students from India and overseas.
HITS has 10 Schools offering more than 100 programmes with Industry relevant and flexible curriculum with the option of add-on Honours and Minors Certification. The Institution focuses on Industry 4.0 Ready Programs and Engineering Degrees in specialized fields of study such as Clean Energy, Cyber Security, Avionics, Artificial Intelligence &: Machine Learning to bridge the gap in the growing requirement of a skilled workforce created by these emerging technology arenas.
Additionally, HITS has also introduced Project Based Learning as its philosophy across all streams of study. This will not only help students to have a better grasp of the fundamentals but will also offer an integrated approach towards research within a structured learning environment with exposure to cutting edge technologies that is required by the modern industries.
Hindustan Institute of Technology and Science has also instituted Dr. KCG Verghese Scholarship programmes for students. This is offered under three categories: 1) Merit Scholarship – Tuition Fee Waiver Scheme – offered to HITSEEE and HITSCAT participants based on their scores. 2) Merit Cum Means Scholarship – offered to meritorious students who are economically weak/physically challenged/ Children of Ex-servicemen and those serving in Defence. 3) Sports & Cultural Scholarship – offered to students with outstanding performance in sports & cultural activities at State and National levels.
HITS  has the distinction of being accredited with an "A" Grade by the National Assessment & Accreditation Council (NAAC), Govt. of India with a score of 3.3/4.0 and is a Category 2 Institution with many privileges from the Government. The National Board of Accreditation (NBA) has accredited several B. Tech programs of the University.  HITS has been certified with QS I – Gauge E Lead for E – learning excellence for academic digitisation. HITS was ranked among top institutions in Sustainable Development Goal by Times Higher Education World University Rankings. Education World magazine ranked HITS in 10th position all India in Private Engineering Ranking 2020 -21. HITS is awarded with 5 stars for the instituting innovation cell activities carried out through HTBI – HEIC by MHRD, Govt of India and ranked 25th in All India under private Universities Category in the Atal Ranking of Institutions on Innovation Achievements (ARIIA) which is an initiative of Ministry of Education, Govt. of India to systematically rank all major higher educational institutions and universities in India on indicators related to "Innovation and Entrepreneurship Development" amongst students and faculties. Recently HITS got the World Record for the highest number of online courses delivered/ taught during the lockdown (4359 participants completed 2, 20,745 lessons) by the International Book of Records.
For more information please visit www.hindustanuniv.ac.in