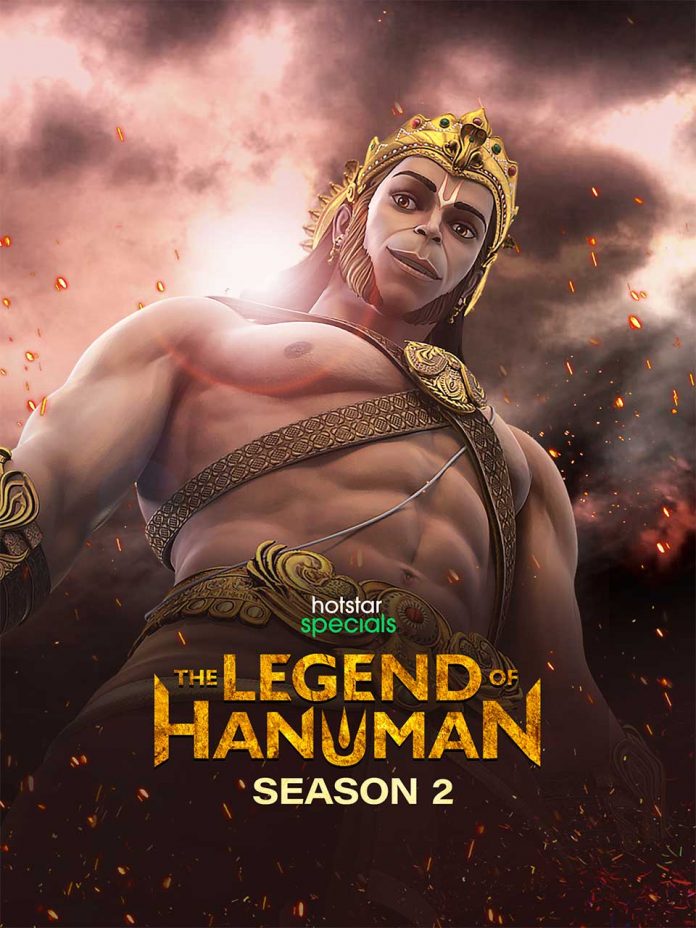 HAR WATCH TOP NOTCH AS DISNEY+ HOTSTAR UNVEILS ITS EXTENSIVE SLATE OF UPCOMING GENRE-DEFINING RELEASES FEATURING INDIA'S BIGGEST STARS AND UNRIVALLED PRODUCTION SCALE; ENHANCES SUBSCRIPTION OFFERING 
~ The streaming platform builds its content repertoire with stories that engage, inspire and entertain ~ 
~ Catch shows and movies featuring the best of India's powerhouse talent – Ajay Devgn, Sushmita Sen, Saif Ali Khan, Shefali Shah, Richa Chadha, Pratik Gandhi, Kay Kay Menon, Kunal Kapoor, Sarath Kumar and film-makers like Nikkhil Advani, Neeraj Pandey, Tigmanshu Dhulia amongst others ~ 
Chennai,  27th July 2021: Disney+ Hotstar today announced its exciting new line-up of high-quality local original content – shows and movies, to keep millions of viewers across India hooked with the promise of Har Watch, Top Notch.  Viewers will be able to enjoy a host of new and returning seasons of Hotstar Specials series comprising the best of talent from the industry, high-quality production, experimental formats and more. In addition, viewers will also get to experience the biggest and highly-anticipated Disney+ Hotstar Multiplex movies, access to the vast library of Disney+ content and LIVE streams of the biggest sporting tournaments. The platform is expanding its subscription offering, and the consumers will have the power to choose from a range of three new subscription plans.
"The content slate demonstrates our relentless pursuit of bringing original and locally relevant stories to our consumers. With our fresh slate of movies and shows, we are proud that India's top stars and industry stalwarts have chosen to debut with us to present stories that are genre-defining clubbed with high-quality production that makes Har Watch, Top Notch," said Sunil Rayan, President & Head, Disney+ Hotstar. "With the newly introduced subscription plans, we want to make our content more accessible to our viewers by offering best-in-class entertainment while giving them an opportunity to choose the plan that best suits their needs," he added. 
"At Disney Star, we believe in the power of great storytelling. We have always challenged conventions and been at the forefront of content creation with powerful and category-defining stories ranging from strong women-centric narratives, mythology to history and contemporary tales. We're thrilled to expand our offering on Disney+ Hotstar by adding an incredible array of blockbuster movies and multilingual original series in Telugu and Tamil," said Gaurav Banerjee, President & Head, Hindi and English Entertainment, Star India.
HAR WATCH, TOP NOTCH
Be it through highly-anticipated blockbusters, unique formats of storytelling across seven regional languages, or unexplored genres – Disney+ Hotstar has always looked at breakthrough ways of bringing compelling content directly to its viewers. Set to reimagine and revolutionise digital content in India with a clear focus on bringing path-breaking local original content, blockbuster movies, best of LIVE sporting action and all-access to the vast Disney content library, the service's latest line-up offers its viewers an unparalleled viewing experience. The platform is roping in talent powerhouses including Ajay Devgn, Sushmita Sen, Saif Ali Khan, Kunal Kapoor, Pratik Gandhi, Kirti Kulhari, Shabana Azmi, Shefali Shah, Richa Chadha; superstars from the south Sathyaraj, Sarath Kumar, Siddharth; award-winning directors and showrunners including Nikkhil Advani, Neeraj Pandey, Ram Madhvani, Vipul Shah, Tigmanshu Dhulia, Habib Faisal, Nagesh Nagesh Kukunoor, Rajesh Mapuskar, Siddharth Kumar Tewary, Mitakshara Kumar, Vikrant Pawar; along with captivating stories across genres that strike a chord across all emotions, making it a must-watch for viewers across India. 
Unrivalled original content:
In line with its promise of Har Watch, Top Notch, the new line-up has it all: productions mounted on unprecedented magnitudes like the period-action drama magnum opus series The Empire helmed by Nikkhil Advani and starring Kunal Kapoor, Dino Morea and Shabana Azmi, and crime-drama series Rudra – The Edge of Darkness which marks the digital debut of megastar Ajay Devgn, and Esha Deol. Scaling up stories featuring strong characters and women-centric narratives like the highly-anticipated second season of Aarya featuring Sushmita Sen, Fear – a supernatural thriller starring Tisca Chopra, and medical drama Human starring Shefali Shah and Kirti Kulhari. Following the blockbuster success of espionage thriller Special Ops, comes the first-of-its-kind 'Special Ops Universe' where multiple characters, stories and seasons will co-exist within a universe in a multi-series format; starting with Kay Kay Menon-starrer Special Ops 1.5. The platform remains heavily invested in bringing to the fore path-breaking storytelling formats and unconventional genres – appealing to viewers with a discerning taste like murder mystery Six Suspects starring Pratik Gandhi and Richa Chadha, the tech-thriller Escaype Live, political dramas City of Dreams (Season 2) and Gharshana, bestselling novel adaptation Those Pricey Thakur Girls, dance reality series Dance+, the third chapter of popular franchise Criminal Justice starring Pankaj Tripathi and more. 
Blockbuster movies:
Adding to its expansive repertoire of blockbuster hits and top-notch content, Disney+ Hotstar will be adding a gamut of new films including the recently released comedy-caper Hungama 2 starring Shilpa Shetty Kundra, Meezaan and Paresh Rawal, the upcoming and highly anticipated Bhuj: The Pride of India starring Ajay Devgn, Sanjay Dutt, Sonakshi Sinha, horror-comedy Bhoot Police featuring Saif Ali Khan, Arjun Kapoor, Jacqueline Fernandez, Yami Gautam. 
LIVE sporting action
For all sports fanatics, Disney+ Hotstar will continue to bring LIVE streams of the biggest cricket tournaments, including the VIVO IPL 2021 and the ICC Men's T20 World Cup – all within the next six months (as per current schedule)! The platform will also showcase LIVE streams of upcoming Tennis, Football and F1 tournaments, making Har Watch, Top Notch.
All-access to Disney content
Viewers will be able to enjoy an extensive collection of beloved library titles, as well as a robust slate of Disney+ originals which includes the unparalleled line-up of content from Disney (Mulan, Cruella), Pixar (Luca, Soul, Onward) Marvel (Black Widow, Loki, The Falcon and The Winter Soldier), Star Wars (The Mandalorian), National Geographic (India from Above, Running Wild with Bear Grylls) and more.
More international content
The platform also offers the latest American shows, blockbusters movies and award-winning content from the best international studios including Endemol, HBO, Showtime and more; giving people top notch content to enjoy throughout the year. 
UNLOCK ALL-ACCESS ENTERTAINMENT
Starting 1st September 2021, users will now have the power to choose from a range of three new subscription plans, namely – Mobile for INR 499/- per year (a single device, mobile-only plan), Super for INR 899/- per year (access to 2 devices across mobile, web and living room devices) and Premium for INR 1499/- per year (access to 4 devices across mobile, web and living room devices). For the first time, subscribers will be able to access the full content catalogue across languages including the vast library of Disney content like Disney+ Originals, latest American shows and blockbuster Hollywood movies; irrespective of their preferred plan of choice. 
CONTENT LINE-UP:
New Shows
Historical fiction The Empire starring Kunal Kapoor, Dino Morea, Shabana Azmi and Drashti Dhami
Crime drama Rudra: The Edge of Darkness starring Ajay Devgn and Esha Deol
Family crime drama Aarya (Season 2) starring Sushmita Sen
Medical drama Human starring Shefali Shah and Kirti Kulhari
Murder mystery Six Suspects starring Pratik Gandhi, Richa Chadha, Ashutosh Rana
Political drama City of Dreams (Season 2) starring Priya Bapat, Atul Kulkarni, Eijaz Khan, Sachin Pilgaonkar
Tech-thriller Escaype Live starring Siddharth, Javed Jaffrey, Ritvik Sahore
Supernatural thriller Fear 1.0 starring Tisca Chopra, Saurabh Shukla and Rajesh Tailang
Crime drama Gharshana starring Naveen Chandra, Sarath Kumar and Jagapathi Babu
Family drama My Perfect Husband starring Sathyaraj
Mystery thriller Family Matters starring Murali Sharma, Nandu, Akshara Gowda and Sonia Agarwal
Romantic comedy Those Pricey Thakur Girls starring Akshay Oberoi, Saher Bamba, Raj Babbar and Poonam Dhillon
Live animation series The Legend of Hanuman (Season 2) with voice by Sharad Kelkar
Dance reality series Dance+ with Remo D'souza
Crime-drama series, Criminal Justice (Season 3) starring Pankaj Tripathi
Espionage thriller Special Ops 1.5 starring Kay Kay Menon
New Movies:
War-epic Bhuj: The Pride of India starring Ajay Devgn, Sonakshi Sinha, Sanjay Dutt, Nora Fatehi
Chaotic comedy Hungama 2 starring Shilpa Shetty Kundra, Paresh Rawal, Meezaan
Crime thriller Collar Bomb starring Jimmy Sheirgill
Horror comedy Bhoot Police starring Saif Ali Khan, Arjun Kapoor, Jacqueline Fernandez, Yami Gautam 
QUOTES FROM TALENT
Actor Ajay Devgn, who makes his digital debut with crime-drama series Rudra – The Edge of Darkness said, "Today, the quality of entertainment being delivered via digital platforms is remarkable and has opened up avenues for filmmakers to experiment and scale-up. The sheer scale of production of these projects has multiplied significantly in the last few years. My upcoming series Rudra – The Edge of Darkness is bigger than anything I've done before. As an actor, I have always believed in reinventing myself with diverse roles to provide an entertaining experience to the audience and, I am thrilled to embrace a new form of storytelling with Disney+ Hotstar." 
Actor Shefali Shah who will be donning a doctor's coat in medical-drama Human, said, "Digital streaming platforms have opened the horizons for all creative people. It's given actors, the opportunity to portray a variety of real and resilient characters. Bold, flawed, broken or whole. I choose  stories that leave something back for me and for the viewers. Characters that leave an impact or touch their hearts or disturb their comfort zone. As much as mine. 'Human' is all of it and more. It's about the underbelly of the medical world. Raw, real, gritty. I am thrilled to be part of this journey, not only because this is a new genre for me, but I'm playing a character I've never ever played before. She's unlike anyone I've ever met or even heard of. And believe me when I say this, it's the exact reaction of all the people who have heard or read of her Gauri Nath (character) is someone you'd never guess."
Actor Pratik Gandhi on his first-ever murder mystery Six Suspects, added "Whether it's lean-back content or complex storylines, digital platforms have explored multiple formats to relay stories in exciting new ways. As an actor, this has allowed me to expand my horizons and work on stories and roles that challenge and teach me. Tigmanshu Dhulia has created some of my favourite movies. It is an absolute honour to work with a stalwart like him on Six Suspects."