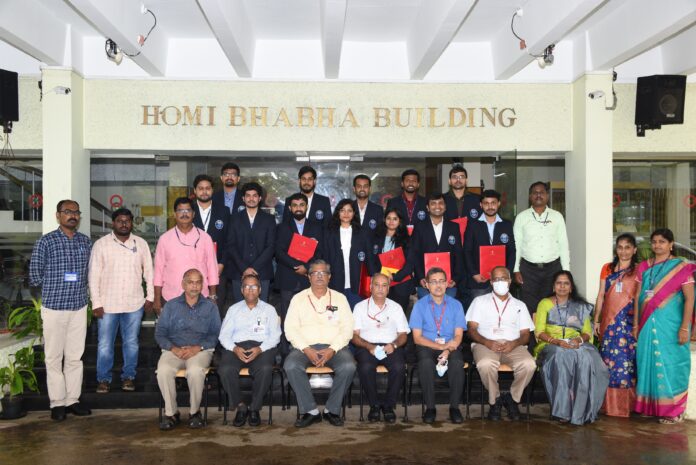 Graduation Day of BARC Training School at IGCAR campus, OCES 2019 & OCES 2020
October 28, 2021
The 14th batch (OCES-2019) and 15th batch (OCES-2020) of Trainee Scientific Officers from the BARC Training School at Indira Gandhi Centre for Atomic Research (IGCAR), Kalpakkam had successfully completed their one year orientation cum training in the field of Nuclear Science and Engineering from seven disciplines (viz.) Mechanical Engineering, Chemical Engineering, Fast Reactor Technology (Electrical & Electronics) , Fast Reactor Technology (Mechanical & Chemical), Electronics and Instrumentation, Nuclear Reactor Physics and Nuclear Fuel Cycle Chemistry, and were graduated in a special event that took place on 28.10.2021.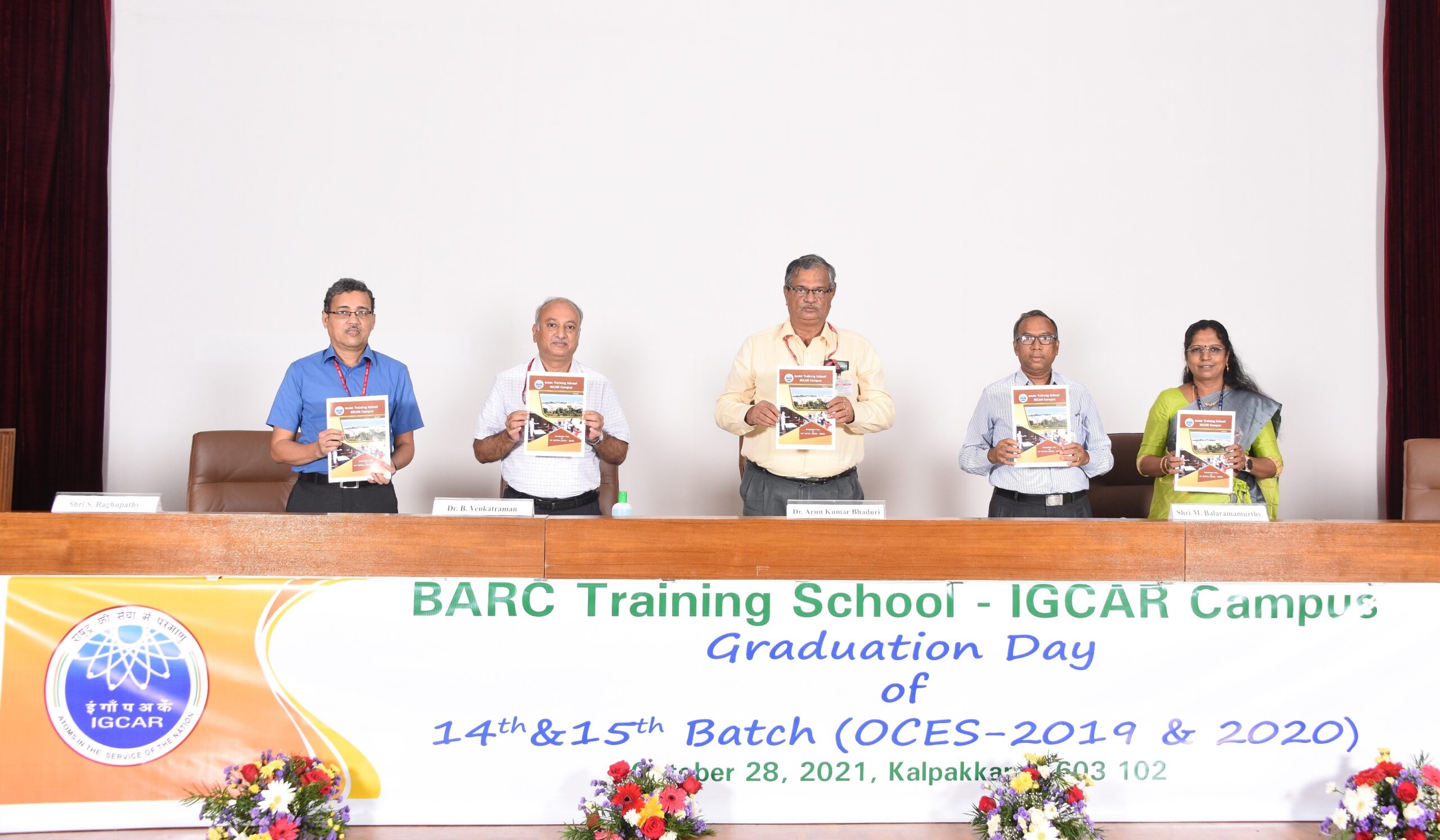 Dr. B. Venkatraman, Director, IGCAR & GSO, in his welcome address mentioned that the Training school is the vision of Dr Homi Bhabha, father of Indian nuclear programme for enhancing the quality of Human Resource. He recalled the humble beginning of BARC training school at IGCAR Campus with 20 Trainees in September 2006. During the last 15 years, 550 trainees have graduated and successfully placed in various units of DAE.  Recalling his training days he motivated the trainees to stay focused in their career and venture in to newer fields to bring out their best. He appreciated the efforts of the team running the training school and other groups of IGCAR and GSO for providing necessary support and to BARC for the guidance.
Shri. S. Raghupathy, Chairman, TSO Placement Committee and Director, RDTG & EIG, delivered the Special address. He advised the trainees to put in their best in the chosen field of posting and encouraged them to shape their career in the first 10 years.     While wishing them all success, he emphasized that it is only hard work that can take them ahead.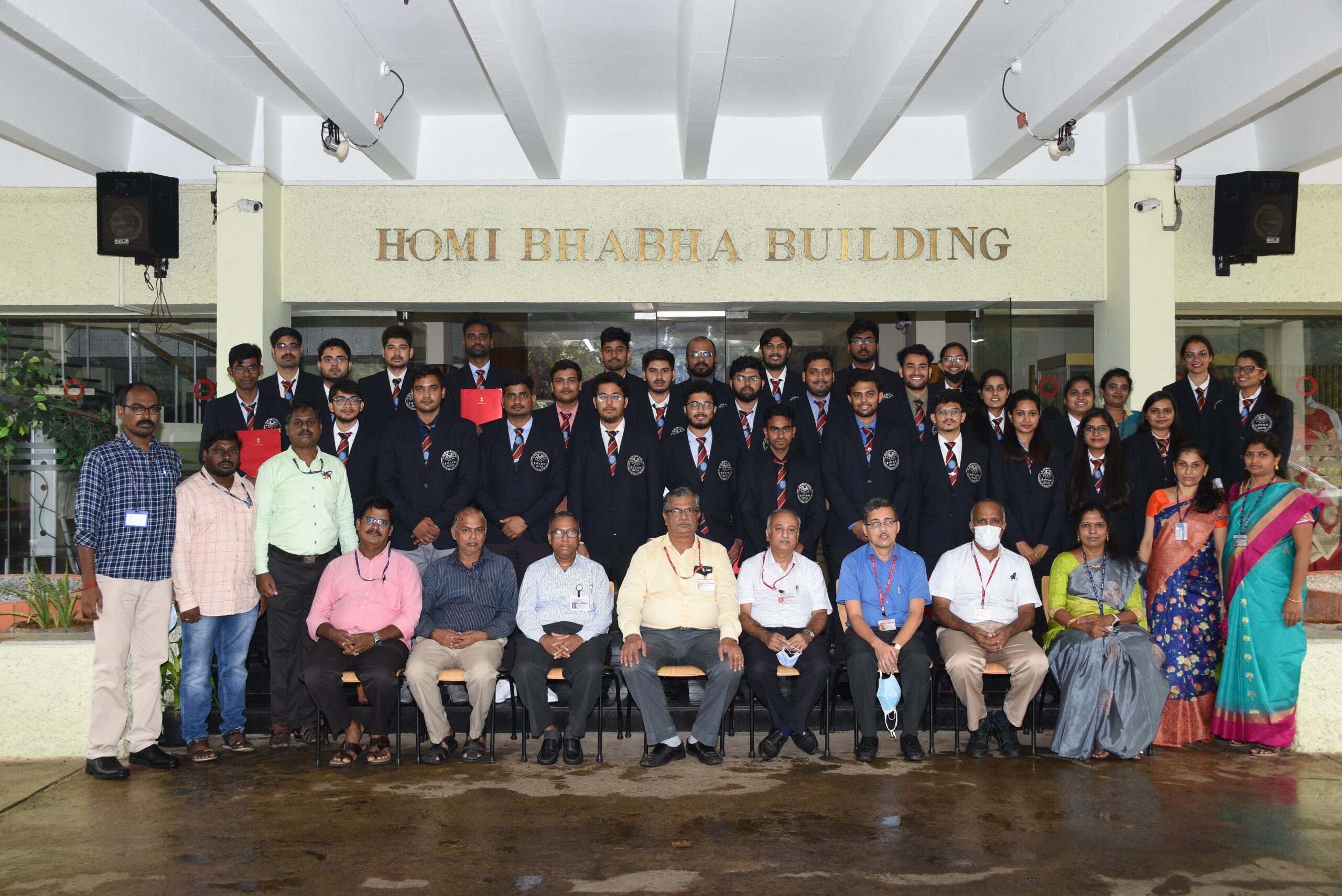 Shri M. Balarama Murthy, Outstanding Scientist, Station Director, Madras Atomic Power Station, Kalpakkam was the Guest of Honor and released the souvenir featuring the training school programme during the academic year 2019-2020.   He while remembering his postings in various plants across the country mentioned that DAE makes adaptability easy for its officers to focus on the projects entrusted to one.
Dr. Arun Kumar Bhaduri, DAE Homi Bhabha Chair Professor,  & Former Director IGCAR, was the Chief Guest and distributed the prestigious Homi Bhabha Prizes' comprising of a medallion and books to the toppers and released the souvenir featuring the training school programme during the academic year 2020-2021.   Dr Bhaduri empasised on being team players to achieve ones goal in DAE. He also encouraged the trainees to work with other units of DAE in their career span to widen ones horizon.  He advised them to learn from their mistakes, adapt to changes in the system, and bring out their best.
Shri Annangi Goutham from 14th batch from Mechanical discipline and Shri Samarjit Singha from the 15 th batch from Nuclear fuel cycle chemistry discipline are the overall topper of their batch and the recipients of Homi Bhabha Medal.
The graduation day coordinated by Dr. Vidhya Sundararajan, Head, BARC Training School concluded with the vote of thanks by Dr. N. Madurai Meenachi, Head, OCES-Training Section.