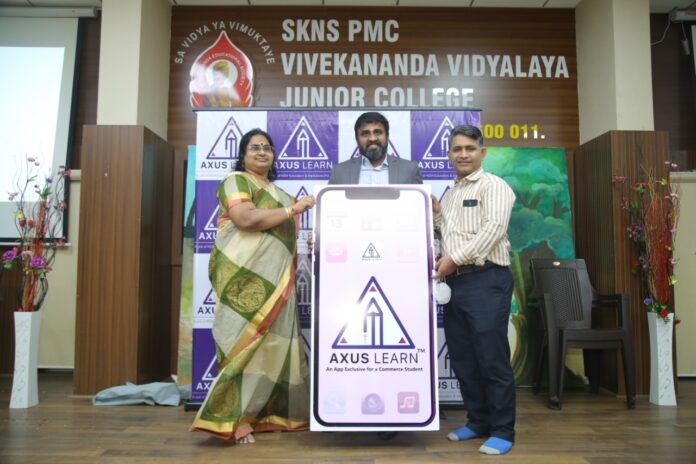 Gokulraj Launches Axus Learn, an Exclusive App for Commerce Students
CHENNAI: We have witnessed a paradigm shift in the sphere of education the last few years, where digital presence has become the crux of learning. Ever since this system was rolled out across the world, there has been an exponential increase in the number of organisations developing digital applications to aid students. From video lessons, study materials, question banks to expert guidance, they have it all under one roof. Despite the plethora of options available online for different fields/ subjects, it has always been a struggle to find a reliable online study partner for commerce students and aspiring CAs.
That's when CA. GokulRaj, birthed – AXUS LEARN, A unit of KEW Education & Institutions Pvt Ltd. This brilliant digital application is all set to revolutionize structured learning on the online space for commerce students in their 11th and 12th grades. This app was launched on December 13th in Chennai at Mr. Gokul's alma mater – SKNS PMC Vivekananda Vidyalaya Junior college, Perambur. The event was presided over by the guests of honour, Mrs. Sujatha, the school principal and Mr. Sriram, the Joint secretary. The app launch was a welcome relief for commerce students who aspire to ace the boards in flying colours.
With subjects ranging from Economics to Business mathematics, the app encompasses crisp and informative study resources for students who wish to master the fundamentals in their subjects and excel in board examinations. With quality video content from expert teachers, practice tests and mock exams for thorough preparation, doubt clarification facilities, the app is an ideal support system for students. The application also consists of a small pre-assessment to evaluate the emotional and intelligence quotient of the students before they enroll for their course, in order to streamline the study materials best suited for each individual.
GokulRaj, the visionary behind this ingenious application, is also the director of KEW Academy. Hailing from humble beginnings, sheer hard-work and passion have been his driving forces. Being an exemplary orator, he has given motivational speeches and mentored over 300 students. Around 7000 youngsters have benefited through his lectures and courses. A chartered accountant, who has now climbed the ladders of success through his work, now wishes to give back to the society through community service and in a way he knows best – teaching, and he initiates it right from his grassroots. He takes immense pride and joy in sowing the seeds of his new app at his own school to begin with. Having been a pioneer in the field, CA. GokulRaj is now all set to propagate quality education to every household through AXUSLearn.
The application is now available pan-India and can be downloaded from their website – www.axuslearn.com .
You can alternately reach out to them at +91 9094099952 for further details.