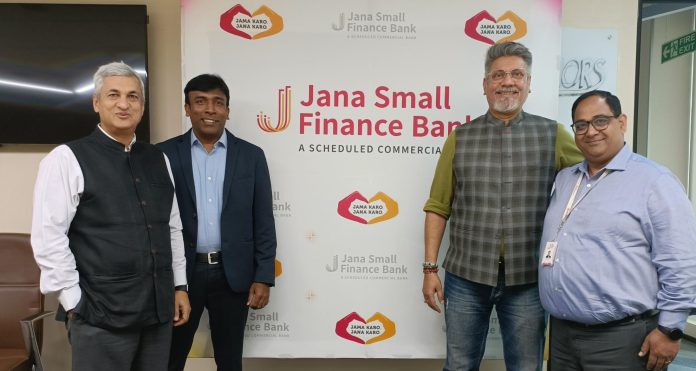 Dvara SmartGold and Jana Small Finance Bank Announce Strategic Partnership for Gold Loans
 Under the agreement, Dvara SmartGold will provide gold loans to its customers with Jana Small Finance Bank (SFB) as the lending provider
 Mumbai, Dvara SmartGold, a Fintech that is building a full stack financial services offering, anchored around gold as an asset class, today announced a strategic partnership with Jana Small Finance Bank (SFB) to offer gold loans with a seamless online and offline experience to customers. Initially, this offering is available across Tamil Nadu, Chattisgarh and Maharashtra region.
Under this partnership, customers of Dvara SmartGold will now have the option to use the platform to apply for gold loans and receive funds directly in their bank accounts. Additionally, the loans will have competitive interest rates and flexible repayment terms to ensure that customers can access funds on their terms. By combining Dvara SmartGold's expertise in collateral management and Jana SFB's reputation as a trusted financial institution, the two companies are committed to delivering a seamless gold loan experience for customers.
"We are delighted to partner with Jana SFB to launch the gold loan business," said Clemenston Varghese, Co-Founder, of Dvara SmartGold. "Our partnership with Jana SFB is a testament to our commitment to providing innovative and customer-centric financial solutions. We aim to provide a transparent and flexible lending service that meets the unique needs of our customers."
"We are excited to join our forces with Dvara SmartGold to offer customers a digitally enabled seamless and a smooth journey.  This collaboration aligns with our mission to provide best-in-class financial products and services to meet the diverse needs of our customers across the country." said Sudhir Madhavan – President Retail Financial Assets, Jana Small Finance Bank
The gold loan market in India has experienced significant growth in recent years as an increasing number of customers opt for gold loans to meet their financial needs. This partnership is expected to further drive the growth of the gold loan market by making it more accessible and convenient for customers.
Moreover, it is poised to make an impact on the largely unorganized gold loan market, which is currently dominated by moneylenders and pawnbrokers. By offering a seamless and convenient gold loan experience, along with competitive interest rates and flexible repayment terms, this collaboration aims to attract customers away from the traditional, unregulated channels. As more customers recognize the benefits of obtaining gold loans from trustworthy and established financial institutions, it will pave the way for a more organized and regulated gold loan industry. This shift will not only provide customers with better financial solutions but also contribute to greater transparency and accountability within the gold loan market.