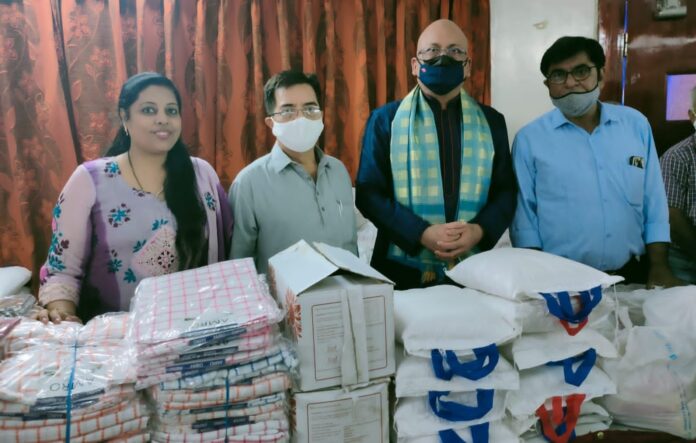 Bharatiya Sindhi Welfare Association's Diwali Dhamaka Distribution Drive Gifts & Provision Distribution For The Needy In association with A Born To Win Research Foundation Trust.
1st November 2021 at Hotel Ashoka Chennai,  Bharatiya Sindhi Welfare Association Organised Diwali distribution drive. It was formally inaugurated by Dr.Radha Krishna Jaganathan, Ashok khubchandani, Hashmat Gualani, Ram Devnani, Varsha Aswani,
Lal Daswani. To make it festive special Bharatiya Sindhi Welfare Association made it at its best organised food and essential commodities to more than a hundred needy families in Chennai.
The kit includes basic necessities for festive season like Rice, Dal, Edible Oil, Atta, Tea, Sugar, Masalas, Dry fruits,Diyas , Cash, Gifts Chocolates ,Door mats, Napkins, Sarees, Dress materials, mixtures, biscuits, sweets and the list goes on. The beneficiaries were full of smiles and all set for Celebrating Diwali.
"I have a very close association with the Sindhi community. When I was in school, my breakfast would be in my Jain friend's house and my lunch would be in my Sindhi friend's house. The parents of these close friends of mine would always treat me as their own son. I can never forget those wonderful moments. We still maintain our friendship and will maintain it forever. It is my pleasure to be here at this charity event organized by the Sindhi community. It is very close to my heart," said Nawabzada.
Expressing gratitude, Founder of Born To Win Research Foundation Trust, Ms. Varsha Aswani and Ram Devnani founder Bharatiya Sindhi Welfare Association stated, "In the present time of suffering, we need to support our society. Our organization with the help of our well wishers are committed to drive many more campaign in future .