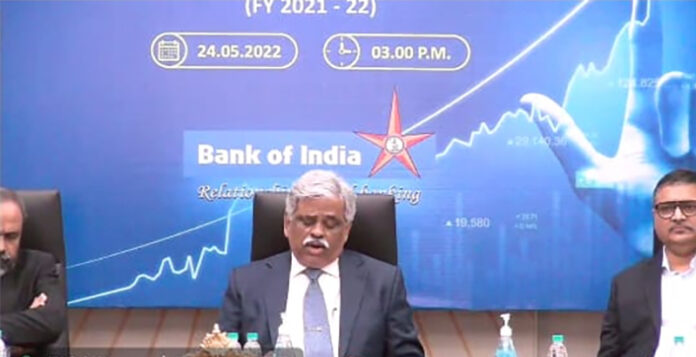 Bank of India net profit jumps over two fold to Rs.606 Cr, up by 142.31% YOY
 Bank of India, a premier Public Sector Bank reports a two-fold jump in Net Profit by 142.31% YOY, which went up from Rs. 250 Cr in Q4FY21 to Rs.606 Cr for Q4FY22. The bank's standalone net profit increased to Rs 3,404.70 crore from Rs 2,160.30 crore in 2020-21.
The total standalone income during the January-March quarter of 2021-22 rose to Rs 11,443.46 crore against Rs 11,155. 53 crore a year ago.
The asset quality has improved as the Gross NPA has declined to 9.98 per cent of the gross advances as of March 2022 compared to 13.77 per cent in the year-ago period reflecting asset quality improvements. The Net NPAs has come down to 2.34 per cent from 3.35 per cent a year ago.
RAM (Retail, Agriculture and MSME) Advances grew by 15.70% YOY and the same constitute 54.97% of Advances.
Global Business increased by 4.56% YOY from Rs. 10,37,549 Cr in Mar'21 to Rs.10,84,910 Cr in Mar'22.  As on 31.03.2022, Bank's Capital Adequacy Ratio (CRAR) stood at 17.04% against 16.66 % in Dec'21 and 14.93% in Mar'21. (Vis-à-vis 11.5% mandate).
During the year, the Bank successfully raised QIP of Rs.2,550 crore and Tier-II Bonds of Rs.1,800 crore for augmenting capital base.