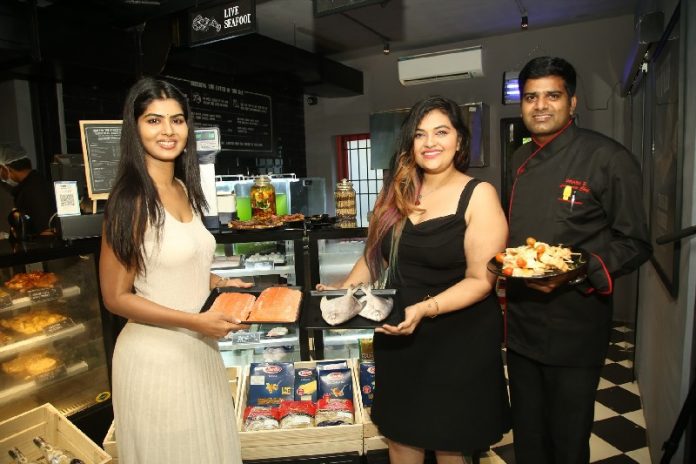 Actresses Upasana, Mallika Angela & Dr.Sanjoy Das launched Mediumrare Delicatessen & Fine Foods at Alwarpet, Chennai
For the first time in Chennai, we see a traditional style delicatessen right in the center of the city in Alwarpet on St Mary's Road. Mediumrare, as it is called, is a one-of-a-kind delicatessen featuring the finest meats (pork, beef, lamb, poultry and seafood), specially curated fine foods and imported products. From cheeses and pasta to antipasti and a wide range of charcuterie as well as a host of deli style food such as roasts, meat pies, sandwiches and many other tasty delights.
The launch was hosted by the Chief Operating Officer, Dr. Sanjoy Das. The Guests of Honor for the event were Actresses Upasana and Mallika Angela. The whole affair was beautiful to say the least with the decor and design of the space as much a highlight as the Deli itself.
The event was attended by a host of people who were very interested in the unique concept and menu. Socialites such as Prerna Khanna, Prajanya Anand, Drishti Khanna, Moumita Roy, Anup Kumar and many influencers from social media; DJ Santana, Hair Dresser to the Stars, Bony Sasi, Celebrity Trainer Chris Morris and Deepti Akki fitness expert were also present.
The idea behind opening such a space in the city was the desire to bring the delicatessen experience to Chennai. The city did not have a go-to destination for a premium range of meats and cuts, right up until now. With this launch, Mediumrare has changed the status quo.
"We do a wide range of value added products of meats, curated and marinated…to cooked food like roasts, salads and selected imported cheese, which I would call a complete delicatessen experience that I had in my several years in United Kingdom", Dr Sanjoy Das spoke. "We have chosen and handpicked the best from India and the western world & hired chefs with international experience to do them." He added. To name a few items in cooked food space are English style roast chicken with thyme, classic roast beef served with jus and Lamb & onion pie.
Check out this amazing food space and chill out on their patio style benches whenever you pass by Alwarpet. To see their updates and menu offering please check them on Instagram @mediumrare.official. Connect with them at [email protected], +91 9884 893 893.